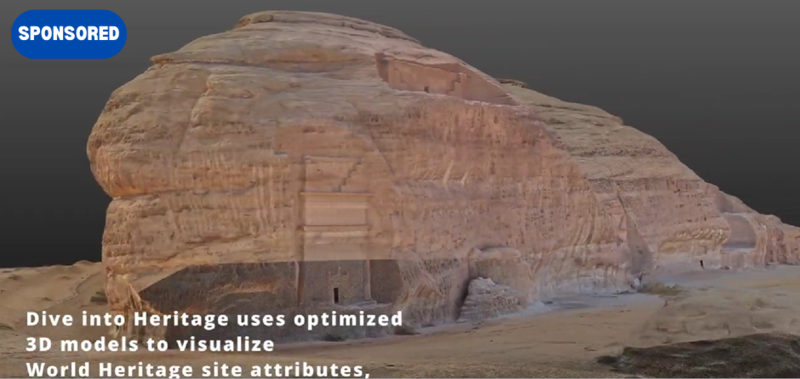 Sponsored Content: Digital technology to preserve cultural heritage and enable immersive UNESCO experiences
In association with: Saudi National Commission for Education, Culture and Science
The Arab region is the cradle of some of the oldest civilisations and cultures on earth. It is also the springboard for a new leap forward in cultural documentation. Under the auspices of UNESCO and with funding from the Kingdom of Saudi Arabia, a new technology platform is being used to map the Arab world's UNESCO World Heritage sites. This UNESCO initiative titled Dive into Heritage may eventually be able to connect every major culture and heritage location on the planet.
With the rapid advancement of AI and other emerging technologies, experts in digital innovation are developing new ways to protect and preserve history and culture. A powerful blueprint is being developed to preserve the storytelling of ancient civilisations and other important cultural sites for the benefit of generations to come.
At the 45th session of the World Heritage Committee in Riyadh, audiences were treated to the first showcase of this innovation in the recording of heritage since the pilot began last year. So, why is this important and why should we care?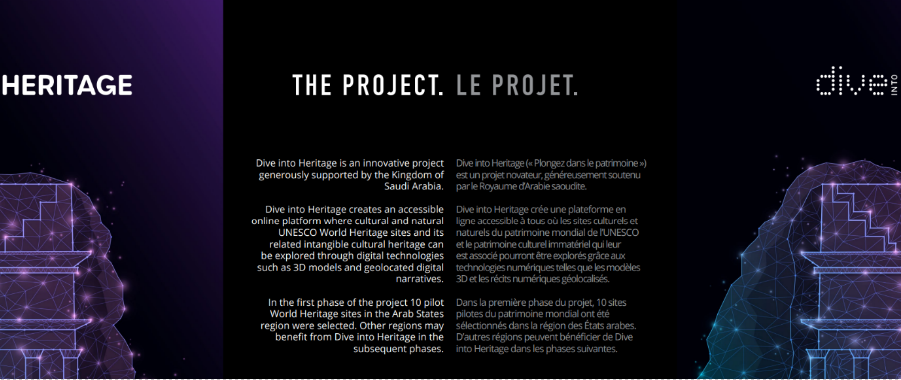 Living culture and heritage in new ways
While travelling to far flung destinations to experience different cultures and heritage is a mere pipedream for the vast majority of the world's population, nearly two-thirds of us now have access to the internet.
Increasingly, the UNESCO Dive into Heritage platform will offer people the chance to explore UNESCO World Heritage sites and to do so in a fully interactive way using virtual and augmented reality.
With the data fully open and available to any person or company in the world, this could support the growth of digital tourism. In today's world, the term 'digital tourism' refers to the host of tools and systems we can use to book travel online, in the future it could mean so much more. Imagine being able to hear the sights and sounds and even experience the touch and smell of different destinations and cultures far from your home, without leaving it. This has the potential to open and democratise the culture and heritage experiences for billions of people worldwide, enriching their knowledge and lives, while helping us all to be more connected.
Reclaiming truth and accuracy from the internet
The largest digital record we have of human civilisation today exists as an unstructured and fragmented collection of data and information spread across the internet. Using technology to centralise and apply proper academic, research, and scientific rigour to data sources can enable humans to reclaim their story and build an accurate source of truth for us all.
Culture and heritage are fragile, often intangible, and ever evolving so many elements can be lost and misconstrued with the passage of time. Imagine if today everyone had the ability to hear ancient languages brought to life, or to interpret rock paintings from thousands of years ago with absolute accuracy. In a world 1,000 years from now, it is amazing to think how the knowledge and skills we have today may be a source of knowledge or inspiration to those who come after us.
Supporting sustainable development
Digitising our culture and heritage also increases our ability to protect it. The rigorous mapping processes that UNESCO runs today to protect our world heritage can be better streamlined and more efficiently delivered. Not only can this enhance UNESCO's ability to act more quickly to preserve unique and valuable aspects of heritage, but also to be more definitive in its choices.
This year alone, UNESCO considered 50 new sites for inscription on the World Heritage List, which already comprises 1,157 other sites around the world. These sites represent both cultural and natural heritage treasures, and yet 56 are listed as being under threat.
Protecting this heritage is a critical aspect in successful sustainable development, and this data can enable conservation efforts to be more seamlessly integrated with the sustainable development goals of each country.
Years from now, unique aspects of our culture and heritage will be what is remembered and talked about our society today, and it is vital we all play a role in protecting and celebrating it in any way we can. Digital technologies offer exciting possibilities for enabling this and I believe present a profound opportunity for mankind to preserve its collective memory.
For more information about the Dive into Heritage platform, go to: https://whc.unesco.org/en/dive-into-heritage/#:~:text=Dive%20into%20Heritage%20is%20the,in%20the%20Arab%20States%20region
PICTURES: Saudi National Commission for Education, Culture and Science