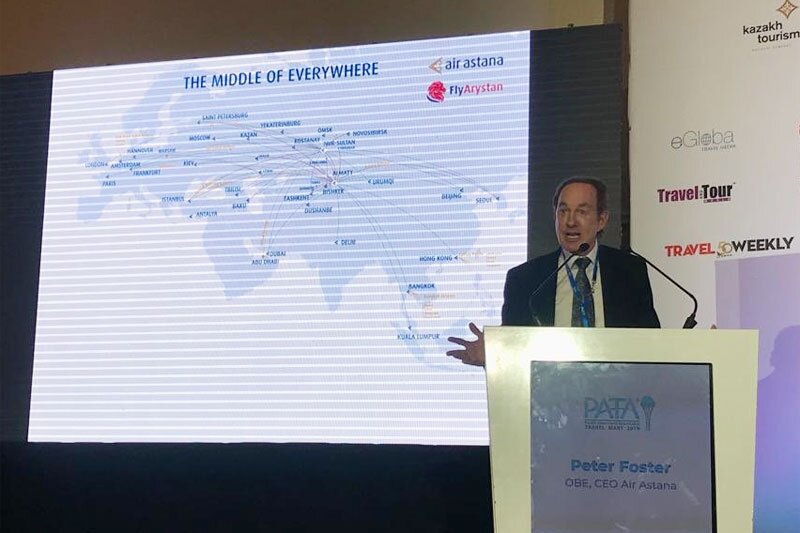 Travo Asian Forum: Air Astana boss issues welcome to travel's 'last frontier'
Airline boss says the world has been opened up, but warns of flip side
The opening up of travel to a mass market over the past four decades has been a wonderful thing that has helped to bring the world together, the boss of Air Astana told last week's Travolution Asia Forum.
Peter Foster, chief executive if the Kazakhstan flag carrier, told the audience at the event In the country's capital Nur-Sultan, that back in the early eighties when he joined the industry travel was reserved for a very small number of people.
"Travel has opened up the world. Everyone can now travel to the sorts of places that were never thought possible before. This is a wonderful thing. It has brought the world together. It has brought together cultures and people and that can be only a good thing."
But Foster warned there was a "flip side". "We have done our job so effectively that we have largely demystified the world. We have made our lives in many ways much more difficult because it's very hard to find places that the mass of people who have travelled are unfamiliar with.
"You have come today to one of the tourist last frontiers. Kazakhstan is at the beginning of the tourism journey."
Foster, who has been at the helm of Air Astana for 14 years, said the carrier has been profitable for every one of its 15 years in operation bar two – 2002 and 2016.
"When I first came here 14 years ago people said to me why are you going to a place that's absolutely in the middle of nowhere.
"But far from being in the middle of nowhere we are absolutely in the middle of everywhere. We really can claim, as far as Asia, and Europe, and the former Soviet Union is concerned, to be absolutely in the middle of everywhere."
He said the country is sitting "on an absolute gold mine" with the Old Silk Road including cuties in neighbouring Uzbekistan, which started offering visa-free travel this year, that rival anywhere else on the planet.
Foster said Air Astana recently launched a low-cost carrier, FlyArystan, which has brought down the cost of domestic air fares by 30% meaning there is reliable, good value flying available around the region.