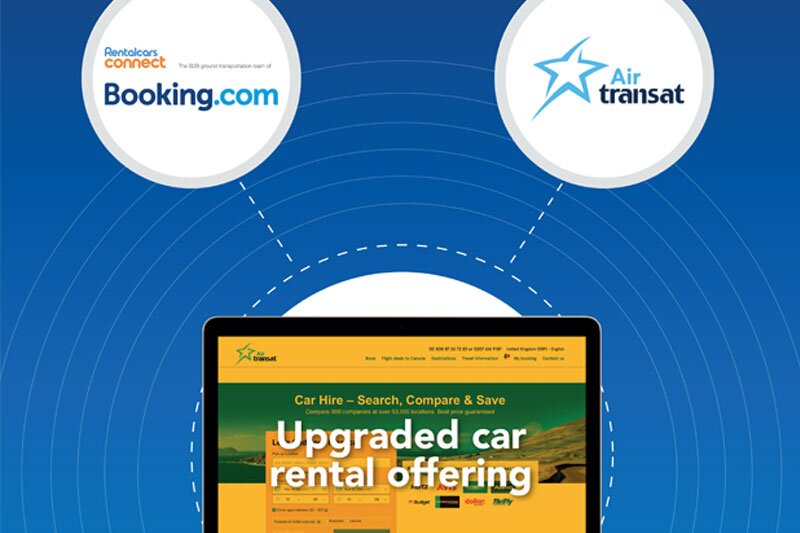 Air Transat and Rentalcars Connect agree white label partnership for car hire
Deal includes creation of vehicle rental tab on airline's flight confirmation page
Canadian leisure carrier Air Transat has struck a deal with Booking.com ground transportation arm Rentalcars Connect to offer an improved car hire service.
An integration with Rentalcars Connect's booking platform means Air Transat can now offer its customers competitive rates on vehicle rentals from leading car hire providers.
The partnership will also allow Air Transat to offer insurance to customers travelling from the province of Quebec, a service that the airline was previously unable to provide.
Rentalcars Connect's bespoke offering for Air Transat includes the creation of a car rental tab for the airline's flight confirmation page, diverting customers to an integrated, white-labelled booking platform.
The carrier says this will enable it to offer a more comprehensive, customer-focused proposition that gives all Air Transat passengers the ability to book flights and ground transportations in one convenient place.
Fraser Ellacott, managing director at Rentalcars Connect, said: "We know the importance of working closely with our partners to identify opportunities for mutual growth, which enabled us to identify a bespoke white-labelled booking platform as the key to unlocking untapped ancillary revenue for Air Transat.
"The integration into their flight confirmation page was seamless, and we are already looking ahead to supporting Air Transat's future growth."
Brenda McInerney, product director at Air Transat, said: "We felt that we could improve our ratio of flight sales to car rentals by partnering with Rentalcars Connect, as they provide a larger offering of vehicle rental options for our customers.
"Despite the fact that we've only worked together for one month, we've already seen a significant rise in vehicle bookings, with every sign that this trend will continue.
"Backed by Rentalcars Connect's superb account management and industry-leading technology, we can be confident that our customers are benefiting from the most comprehensive car rental solution on the market."
The Rentalcars partnership follows a period of considerable success for Air Transat, which was named World's Best Leisure Airline at the Skytrax World Airline Awards earlier this year.