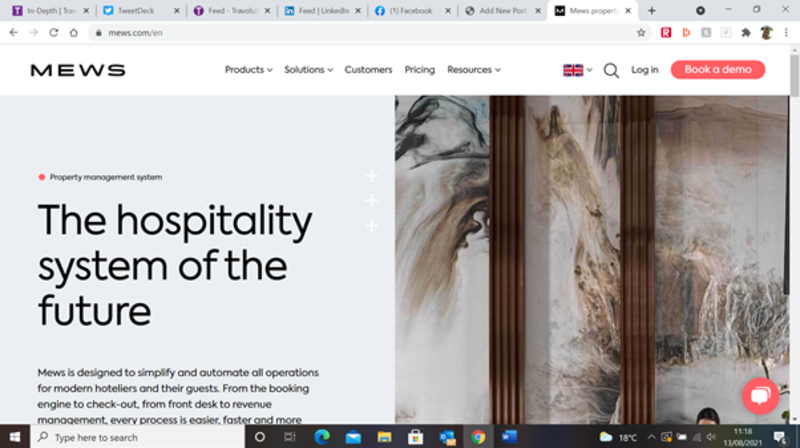 Mews makes PMS provider Hotel Perfect third acquisition in 18 months
Further consolidation in UK market after deals for Planet Winner and Base7Booking
Cloud-based Property Management System provider Mews has completed its third acquisition in 18 months with the capture of Hotel Perfect.
Mews said the deal for the PMS solution for full service and independent hotels represents a drive to invest and grow in the UK market.
The acquisition comes on the back of other recent deals to merge Planet Winner and Base7Booking into the Mews operation.
Richard Valtr, founder of Mews, said: "The PMS category is currently going through rapid innovation and growth.
"Hotel Perfect has everything we're looking for in an acquisition: great people, customers and technology.
"This partnership also represents a conscious investment into the UK market where we're seeing strong adoption of cloud technology and hospitality brands who are looking for solutions that will serve them long into the future. I'm delighted to bring Hotel Perfect into the Mews family."
Hotel Perfect was founded in Cornwall in 1992 and has built a suite of software products including a booking engine, channel management, guest communications and dynamic pricing.
The Hotel Perfect customer base includes luxury hotels, resorts and spas, golf clubs, conference centres and self-catering businesses.
Andrew Risely, managing director of Hotel Perfect, said: "The growth and innovation from Mews is evident.
"We've known Mews for a long time and both share a common goal of delivering great technology to a wide variety of hospitality businesses.
"We believe they are leading the way with the next generation of 'Open API Connectivity' allowing businesses to choose, and seamlessly connect applications to the property management system.
"It's an incredibly exciting moment for our team and customers who will be benefiting from the existing expertise here at Hotel Perfect along with being well-supported by Mews, now and in the years to come."