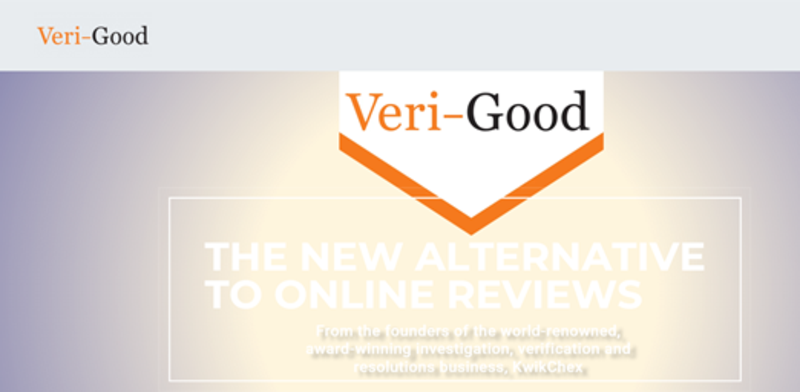 KwikChex fake reviews campaigner announces launch of new verified platform
Veri-Good sets out its mission to combat bad businesses and fake and outdated feedback online
Anti-fake reviews campaigner Chris Emmins has announced the launch of a new verified service to bring more integrity to customer feedback online.
Veri-Good will initially focus on the hospitality sector as an alternative to reviews giant Tripadvisor, OTAs like booking.com and independent platforms like Trustpilot.
Emmins has spent 12 years having founded KwikChex rooting out fake bad reviews that damage businesses and fake good reviews that consumers fall prey of.
He said the launch of Veri-Good comes in a significant month with Tripadvisor hitting one billion reviews a decade after UK watchdog the ASA ruled it could not use the term 'Reviews you can trust'.
KwikChex was also behind a recent investigation into Trustpilot which has announced a new legal crackdown on people who post misleading reviews on its site.
Emmins said Veri-Good will "provide consumers with genuinely verified information on businesses with good standards".
The site will not allow businesses that have failed basic hygiene or safety inspections or enable any firms to pay for a higher search ranking.
"We want Veri-Good to epitomise quality over quantity by using and promoting true information integrity," said Emmins.
"We want great businesses to succeed through verified high standards and consumers to feel safe in their choices.
"People can, of course, still use what's been available for the last 20 years or so.  We will welcome the comparisons of experiences by consumers."
Emmins added Veri-Good will "remove the clutter that exists at the moment – bad businesses, fake reviews, uselessly out of date reviews".
He said Tripadvisor has admitted that over half a billion reviews on its site date back more than four years.
The Veri-Good platform will only feature business that can prove high standards and will hold businesses to account for upholding them.
It also vows to investigate complaints to resolve them and will incentive consumers to act as verification agents' in exchange for rewards including discounts, bonuses and payments.
Professional reviews from journalists and critics will also be allowed on the site because they come from a verified and trusted source.
Emmins said this will help featured businesses drive direct bookings and closer relationships with customers while charging lower commissions than competitors.
A Veri-Good information website has been made live and further updates of the official launch is expected in weeks.