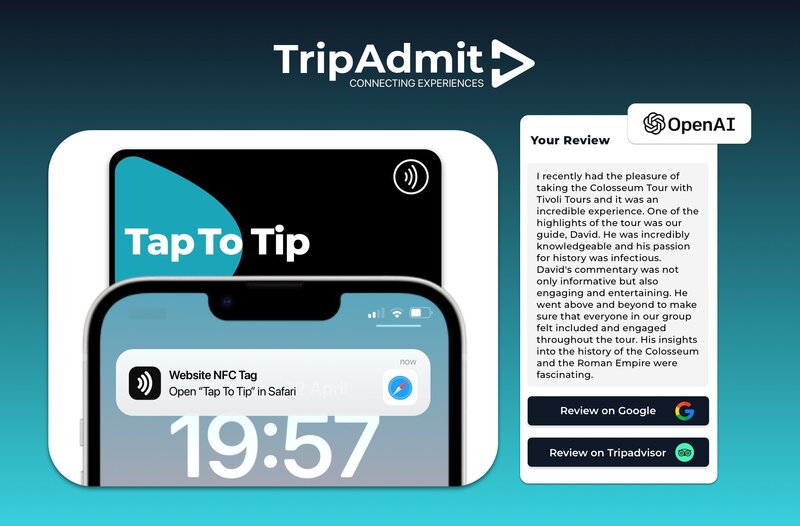 TripAdmit adds ChatGPT review generator to its digital tipping service
Guests can now leave reviews using the latest Open AI technology, the first of its kind in the industry
Booking software technology company, TripAdmit, that connects activity providers with travellers and distribution partners, today revealed its latest feature for its product Tap to Tip.
Tap to Tip is a cashless and contactless tipping solution for activity providers, guides and guests, which enables guests to make contactless payments via near-field communications technology through their iPhone or Android devices by tapping a card.
With the addition of ChatGPT functionality, Tap to Tip now provides an automated guest review option after tipping.
Guests can generate a personalised review by utilising a combination of user input and generative AI automation.
It will generate fully editable keyword rich reviews that can be indexed by search engines, which can also improve the operators' Google and TripAdvisor rankings.
This latest service is the first of its kind in the industry, providing a convenient way for guests to leave reviews.
The service will also help drive the best possible service by collating and evaluating customer feedback.
John Maguire, co-founder and CEO of TripAdmit said: "Tap to Tip fits the needs of both travellers and tour guides. We are increasingly becoming a cashless society, so this service ensures that guests can tip their guide securely using a method that suits them.
"On top of that, we understand the importance of customer feedback, so we have now made it easy and convenient for guests to leave accurate and customisable reviews after tipping.
"Using Open AI's ChatGPT, guests can generate their review automatically on Tap to Tip which will be accurately aligned with their assessment of the experience."
"By leveraging the combined power NFC and AI we can ensure that the guides never miss out on a tip again and operators collect more reviews than ever leading to increased bookings and revenue."