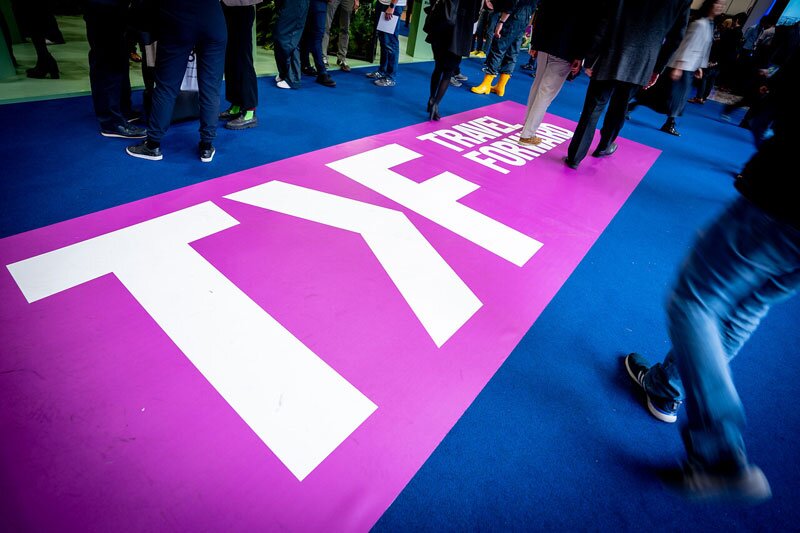 Travel Forward Preview: Highlights of next month's annual travel tech show
Sessions will focus on key topics of start-ups, tech, cybersecurity, sustainability and artificial intelligence
Corporate giants Sabre and Mastercard and airline technology specialist SITA will star at this year's WTM London's travel technology show Travel Forward.
The annual trade show has released it programme of conferences and sessions as it gears up to welcome thousands of trade visitors to the Excel exhibition centre on November 1-3.
The physical show will be followed by WTM and Travel Forward  Virtual taking place on November 8-9.
The conference programme comprises multiple tracks, offering a mix of panel discussions, Q&As, fireside chats, keynotes, sponsored sessions and competition.
Show organisers said all speakers will "inspire and educate their peers, sharing best practices for the wider good".
For 2021, Travel Forward has linked up with World Tourism Foundation Lucerne (WTFL) for the Front Runners Travel Tech Competition and Summit, taking place on the Tuesday afternoon from 2pm.
The mini-conference includes a start-up pitch competition. Some 350 early-stage businesses from 80 countries pitched their plans to a panel of judges which came up with a short-list of three for each of the categories – smart mobility, hospitality and experiences.  Overall winner will be picked from the category winners.
As well as start-ups, Travel Forward is welcoming some of travel technology's established players.
GDS and leading tech developer Sabre, one of the Travel Forward Stage partners, will explain how personalisation and retailing will shape the future of the hospitality industry.
Charlotte Lamp Davies from consultancy A Bright Approach will interview Scott Wilson, executive vice president and president of Sabre Hospitality Solutions, from 2pm on November 1.
On November 2 at 12.30pm Mastercard executive vice president Kevin While will turn the focus on payments, explaining how advances in technology can make life easier for agents and suppliers.
Another key topic at the show will be sustainability. This year, airline and airport technology supplier SITA will talk about how technology is helping the aerospace industry to not only reduce its greenhouse gas emissions but also become a more sustainable industry.
Yann Cabaret, SITA vice president strategy, product and marketing, will be interviewed on the Travel Forward Stage by John Strickland of JLS Consulting at 3.15pm on November 1.
Harold Goodwin, WTM's responsible tourism advisor, will also addressing responsible technology in a session at 10.30am on November 2 focussing on case studies showing how technology can encourage behavioural change in travellers.
Marketing is another area where travel companies are seeing the beneficial potential of technology.
A three-hour mini-conference hosted by The Five Percent, an online learning community for early-stage and transitional entrepreneurs, will take place on the Wednesday afternoon.
Sessions focussed on how technology is realising benefits in marketing, will be moderated by The Five Percent chief executive and co-founder Marcus Murphy.
The three-day Travel Forward summit kicks off at 10.30am on November 1, with a session on artificial intelligence, hosted by Lamp Davies and featuring speakers including Andy Owen-Jones, chief executive and co-founder of bd4travel and Sundar Narasimhan, president of product labs and product strategy at Sabre.
The opening morning also includes a discussion based on Travolution's latest Innovation Report and a look at how technology can help hotels manage staff during the fragmented return to travel.
speakers from Skyscanner, Hotelplanner, Tui Musement, Kantox and Publicis Sapient will discuss post-pandemic technology trends and how firms can continue to innovate even with reduced resources and budgets.
Finally, a session hosted by James Cocker from InfoSecurity Group at 11.30am on November 3 will look at cybersecurity, a concern for the industry before the COVID pandemic and one that is gaining more traction as travel restarts.
Simon Press, exhibition director for Travel Forward, said: "We believe there will be a post-COVID travel event bounce back – it's already happening – and we are determined that Travel Forward, in a crowded field, will be on every technology company's priority list.
"We set the bar very high with our previous conferences, and 2021 will be as strong as its predecessors.
"We're particularly excited about Front Runners. Travel Forward is committed to supporting travel tech start-ups and the tie-up with WTFL strengthens our appeal to the ecosystem and takes Travel Forward to the next level."