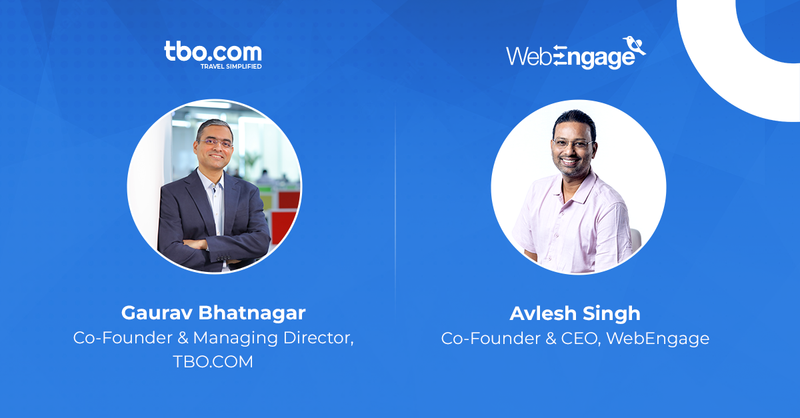 TBO.COM and WebEngage join hands to deliver hyper-personalised services to customers
The strategic move will see TBO.COM complete a digital transformation
Global travel distribution platform TBO.COM has announced a strategic partnership with marketing automation company WebEngage, for a "comprehensive" digital transformation.
TBO will harness WebEngage's automation and AI-ML tools, journey designers, and personalisation engines to consolidate data, derive insights and empower travel agents to hyper personalise customer engagement.
SaaS provider WebEngage has a portfolio of over 800 client companies globally and has added over 60 new clients each quarter.
It recently won a $20-million Series B funding round, led by Singularity Growth Opportunities Fund and SWC Global, with participation from existing investors India Quotient, Blume Ventures, and IAN Fund, among other VCs.
"Travel distribution platforms such as ours are ripe for technological adoption aimed at higher conversions and insights-led engagement," said Gaurav Bhatnagar, co-founder and managing director of TBO.COM.
"A marketing-automation innovator of WebEngage's calibre as a solutions provider complements the scale of our operations and aspirations.
"The partnership will enable us to deliver personalised services to our agents and partners and, through them, a multitude of travellers across the globe."
Avlesh Singh, co-founder and CEO of WebEngage, said that business-facing companies "must engage like they are directly dealing with customers".
"The next phase of B2B growth will hinge on superior customer experiences. Therefore, in tourism distribution, a unified view of agents, dynamic segmentation, and the ability to automate and orchestrate cross-channel communications at scale will constitute a competitive edge.
"Our partnership with TBO is built on that objective."