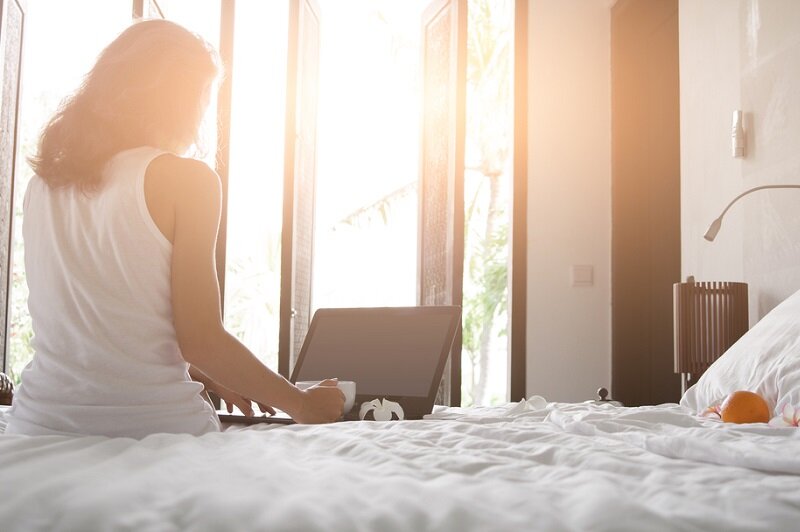 Surveys continue to point to importance of Wi-Fi for holidaymakers
Some travellers would rather get sunburn than go without web access
More studies have suggested that Wi-Fi is the number one concern of holidaymakers.
Banking group Santander UK has found that 59% of Brits consider access to free Wi-Fi the most important requirement for an enjoyable holiday – used for looking up restaurants or to keep up with social media.
More than eight out of ten (84 per cent) holidaymakers expect Wi-Fi to be free at the airport and three quarters (74 per cent) expect a free Wi-Fi connection at their hotel, Santander found. And the study suggests that 29 per cent of adults consider Wi-Fi access to be the deciding factor when choosing a hotel or holiday resort destination.
The survey found that Wi-Fi was more important to holidaymakers than other holiday comforts such as access to a good selection of bars and restaurants (which 58 per cent of people said was crucial), cultural activities (52 per cent), good customer service at the hotel (51 per cent), air conditioning (45 per cent), close proximity to a beach (39 per cent), complimentary hotel items (37 per cent), availability of a gym or a pool (33 per cent) and access to a free crèche (9 per cent).
Separately, broadband comparison website Broadband Genie surveyed 1,500 holidaymakers on the importance of Wi-Fi and found that 34 per cent would rather skip a good breakfast if it meant keeping their internet access while on holiday. One in ten respondents would accept no toilet roll and a cold shower ahead of no access to the internet.
As many as 40% would avoid a destination if there was no internet access and 20 per cent think being offline is worse than sunburn, according to Broadband Genie's results.
Ten per cent said they'd take bad weather over a lack of internet access.
Santander says that despite the insistence on Wi-Di connectivity, the quality of hotel Wi-Fi connections fell below expectations for a fifth of holidaymakers in the past three years. It says 13 per cent have complained about poor quality Wi-Fi access at their holiday accommodation.
Andy Warren, Head of Select & Private Marketing said: "Holidaymakers are increasingly reliant on Wi-Fi connectivity on the go when travelling abroad. Having access to a high quality Wi-Fi connection is seen as a necessity and valued over traditional holiday perks."
Rob Hilborn, head of strategy at Broadband Genie, added: "It's amazing the lengths we're willing to go to stay connected to our digital lives. You can travel halfway across the world, load up Facebook and feel like you're right at home.
"The end of data roaming costs has been really good for the consumer and I wouldn't be surprised if we continue to spend a bit more time connected when we're away from home, but can have its drawbacks. Holidays are about taking a break and resting, which can be hard to achieve with distractions such as emails coming in from work."