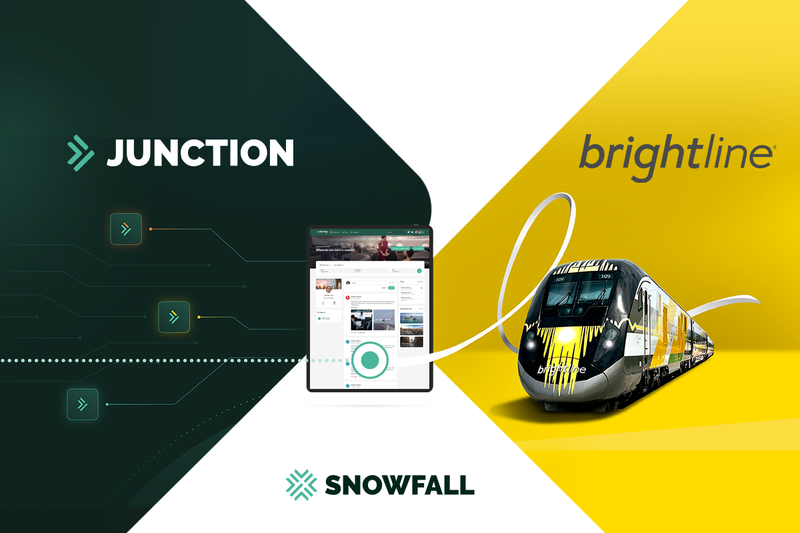 Snowfall announces distribution of Brightline's US rail content via Junction
Snowfall customers benefit from 'ground-breaking' high-speed rail content via its global marketplace Junction
Global travel tech provider, Snowfall, has announced that partners using its Junction multimodal travel search and booking platform, will be able to access and book Brightline's US rail content.
The addition of Brightline means Snowfall customers will be able to easily search Brightline train route options and book tickets.
This in addition to accessing Junction's global marketplace, which distributes first-to-last-mile travel content from over 50 rail operators, more than 700 airlines (including NDC), and more including hotels and bus and ferry operators.
Brightline, which was founded in 2017 to create a solution for routes that are too long to drive but are too short to fly in southern Florida, is said to be the only provider of modern, eco-friendly, intercity rail in America.
It intends to expand its award-winning service to additional cities and congested corridors across the US, with immediate plans to connect Las Vegas to Southern California.
Stefan Cars, CEO & founder of Snowfall, said: "Brightline is offering an exciting new rail travel solution for business and leisure travellers in America and we are delighted to partner with such an impressive innovator in this space who shares our vision for reinventing the way people experience travel.
"The sustainable travel groundswell is driving a growing appetite among corporate travellers for multimodal forms of travel, and in particular a shift from air or car to rail travel.
"But this also requires seamless technology to book all those options in one place. Our aim with Junction is to deliver as much content as possible to our partners, so they can drive a true door-to-door, first-to-last-mile travel experience in one booking for their customers.
"Now that content also includes simple, stress-free access to Brightline's ground-breaking US rail content."
Gabriel Martinez, VP distribution & channel sales of Brightline, said: "Throughout South Florida, and soon Orlando, Brightline is empowering businesses, clients, and everyone in between to do their best work.
"Brightline is excited to offer this first-of-its-kind travel solution for travellers conducting business in Florida and we are excited that partners and customers using Junction will now be able to search and book a ride for their clients via this dynamic platform, giving full control over travel budgets and travel schedules."