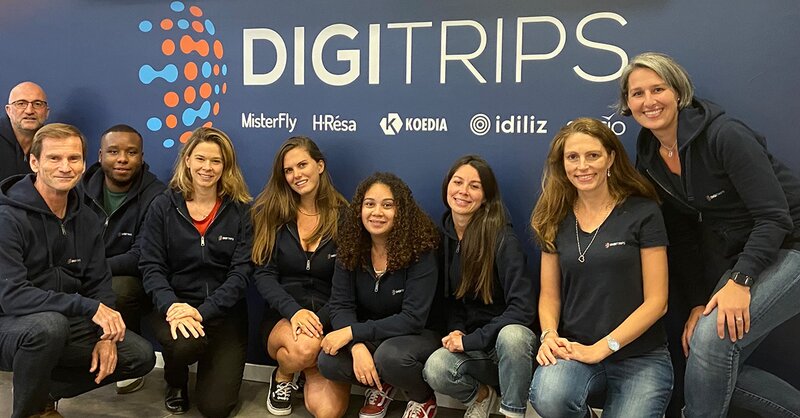 Misterfly Group rebrands as Digitrips
Move reflects B2B nature of platform
Misterfly Group is rebranding as Digitrips to reflect the evolution of its business as a leading B2B and B2B2C multi-product travel platform, along with plans for international growth.
The parent and owner of France's hybrid flight online travel agency, Misterfly, was founded in 2015 and now includes seven travel technology B2B sub-brands.
About 90% of revenues for the group are generated through B2B sales to more than 5,000 B2B clients.
It has sold more than five million passengers for retail travel agents, OTAs, tour operators, white-labels and loyalty schemes.
Clients include leading French and Belgian companies such as Carrefour Voyages, Leclerc Voyages, cDiscount, VeePee and Neckermann.
Its team of 200 employees builds products, services and technologies used by B2B clients to source, book, sell and service travel, offering white-label solutions, API connectivity, agent booking tools, and SaaS [software as a service] solutions for hotel distribution, travel agencies and TMCs.
The rebrand also reflects the wider range of products being sold, including accommodation, cars, transfers, packages, insurance, and payment solutions.
Emilie Dumont, Digitrips managing director, said: "We are so much more than just the Misterfly B2C OTA – important and dear as it is to us – and this new name and brand identity reflects that 90% of our business is B2B and that we have long-since moved 'beyond air' into selling a whole range of travel products, services and even SaaS software solutions.
"Additionally, whilst France remains our core market, we have grown beyond the borders of France in recent years and have ambitious plans for further international growth in the future."
Nicolas Brumelot, chief executive and co-founder of Digitrips, added: "We felt that the new name and brand identity better fits the diversified and innovative B2B company we are."
The new Digitrips brand will act as the master brand for the company's seven different sub-brands, which will all keep their names and identities.
The 200 staff are based in five offices in France, Canada, Belgium and Spain.