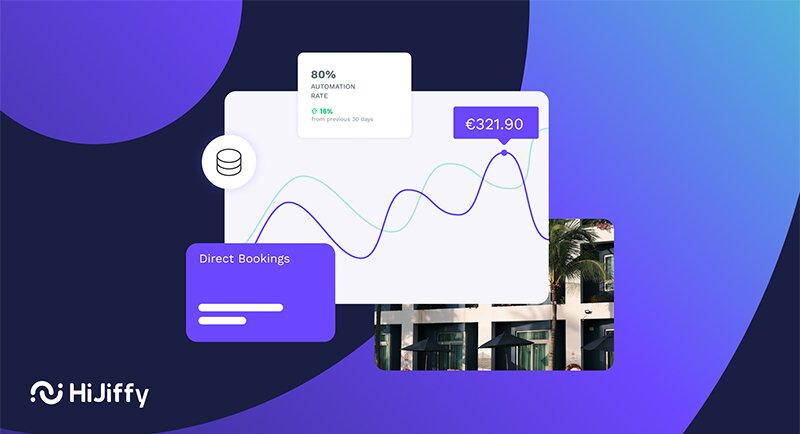 Guest Post: How to use AI to automate 9 out of 10 guest questions
Automation is a hot topic in the industry. But how to make the most of it?
Let's explore it further and identify the key benefits it can bring to your business, discovering as well how HiJiffy's Guest Communications Hub can automate +85% of your guests' common questions and requests.
What does automation mean, exactly?
For this conversation, let's define automation as the AI completing tasks independently, without input from staff. It is all about reducing the demand on your teams while offering convenience to your guests.
But would the guests be happy with such automated procedures?
The industry trends show a growing preference for hotels that use tech solutions to reduce dependency on hotel staff - as many as 65% of travellers would prefer to stay in such hotels, and 36% embrace a fully digital service with staff only available on demand (Oracle, 2022).
HiJiffy's Guest Communications Hub provides CSAT score metrics; on average, over 80% of guests report being happy with their queries being resolved by the AI agent.
Trends come and go - why invest in automation solutions?
Automation is more than a trend; it is a sustainable solution for the estimated 1.2 million staff shortages in the hospitality industry in the EU.
The World Travel & Tourism Council and European Travel Commission made a recommendation for the industry to "adopt innovative technological and digital solutions to improve daily operations (…)."
Many hotels will struggle with staffing levels in the peak season, and it is essential to support your teams by reducing workload where possible to ensure guest satisfaction is not affected.
Can you give me an example of how automation can support my hotel staff?
How much time do your reception and reservation teams spend repeatedly answering the same questions? Automating answering FAQs is a prime example of supporting your staff.
On average, hotels using HiJiffy's solution achieve over 85% automation, meaning the percentage of guest queries resolved by AI without human agents' involvement.
One of HiJiffy's clients shared a fantastic success story of using their solution, resulting in a 70% decrease in incoming calls while increasing room bookings and restaurant reservations.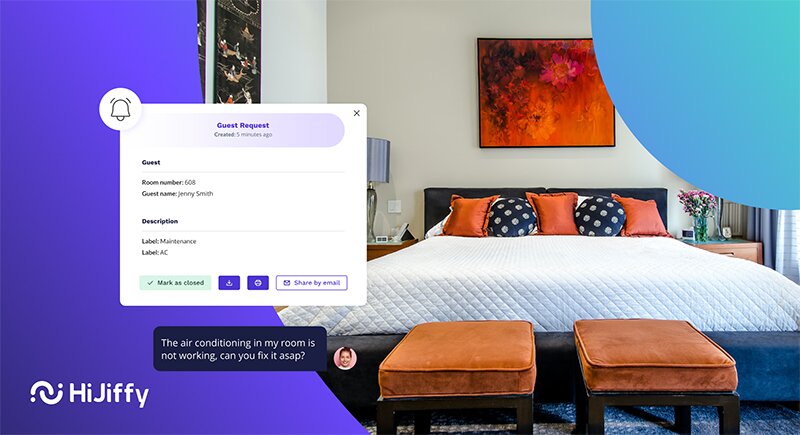 What kind of technology do you use? Is your solution easy to use?
HiJiffy combines the latest developments in the field with their own AI specialised in hospitality - Aplysia OS. This allows them to bring the most cutting-edge tech solutions to hoteliers.
In recent months, HiJiffy launched a GPT-4 chatbot, AI-powered voice assistant, sentiment analysis - and have we mentioned their AI has self-learning capabilities?
All of this - and so much more! - is available to you through an intuitive and user-friendly interface of the Guest Communications Hub.
Can Guest Communications Hub be used together with other digital solutions we use?
HiJiffy's solution integrates with the most popular hotel management systems, including booking engines, property management systems, CRMs, maintenance management systems, marketing automation, and more.
Use cases include direct booking process automation, online check-in and check-out, digital room keys, upselling campaigns, guest review campaigns, and the possibilities are constantly expanding.
How do I book a demo to see how it can work for my hotel?
Just visit hijiffy.com and book a personalised demo with a dedicated team.
You're still on time to make the most of automation to relieve your team from repetitive and low added value during the peak season this summer.