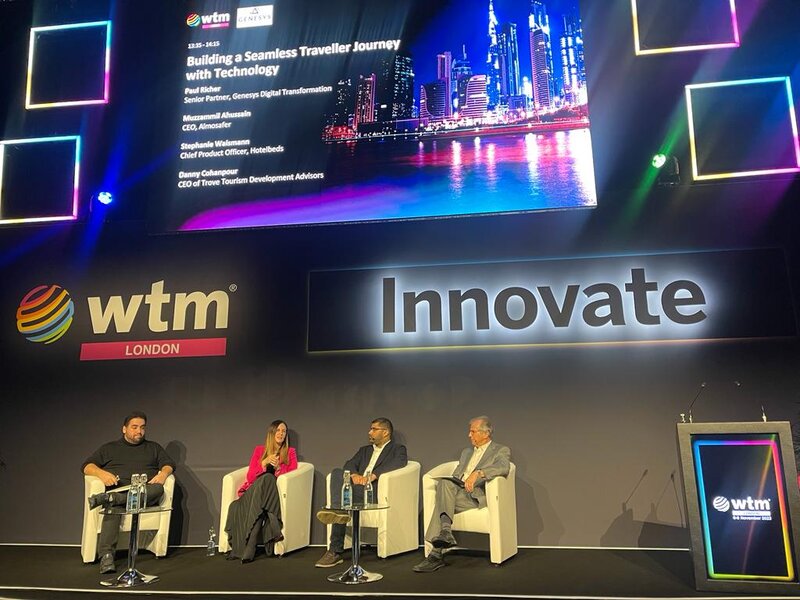 WTM 2023: Personalisation 'extremely important' for seamless traveller journey
Data is critical to execution of personalisation
Four thought leaders discussed building a seamless traveller journey with technology during a panel discussion at WTM London last week.
Paul Richer, senior partner of Genesys Digital Transformation led the discussion in which he probed the panellists on various tech that we need to be utilising to realise a seamless journey for consumers.
Muzzammil Ahussain, CEO of Almosafer said it shouldn't be just a "cookie cutter" experience.
He said: "I think personalisation is extremely important for multiple voices, so you have to understand the demographics of the person's individual traits and behaviours.
"You can recommend packages, but it shouldn't just be a cookie cutter experience and I think that's key."
He went on to say that a human touch is also needed to go hand in hand with this though.
Stephanie Waismann, chief product officer of Hotelbeds, part of HBX Group, said: "I think personalisation is obviously critical. She said you need a strong focus on customer segmentation.
"At HBX we do a lot of work around customer segmentation, building personas. So it's a combination between having that kind of human touch and staying focused on the customer and getting those strong customer feedback loops in place but also having the data to kind of respond in real time.
"One of the key insights we had from this year which we acted on was that customers are looking for much more holistic solutions when it comes to travel.
"So this year to address that we are going to be launching new payment solutions, insurance services to address those multiple needs and offer much more personalized, and tailor offerings to specific kind of segments, groups and our customers."
Danny Cohanpour, CEO of Trove Tourism Development Advisors agreed with Waismann. He said access to data was fundamental when providing a seamless traveller journey.
"I can't tell you enough how important it is to have that solid foundation of data and that feedback loop, but I think any company, regardless of size, can access that data.
"Whether it be data from chat, data from your website, data from bookings, data from the sentiment, data from customer feedback.
"Retrieving that data is critical to any time of personalisation, because you could personalise the pre-booking process, the booking process and the post boking process, the review and the feedback process.
Cohanpour said: "If you're looking at HR and what you should invest in, in 2024, it should be some sort of data integrator or data specialist that can integrate different sets of data that you get from disparate sources because you know even as a small tour operator or a medium size operator, you need somebody that can take that customer data, that's own third party data that we mentioned and integrate it together so that you can segment your customers base and you need that expertise on your team."
He added: "Organisations that we see do really well are the ones that have experience strategy.
"There are people that can stay with you even for a few months."