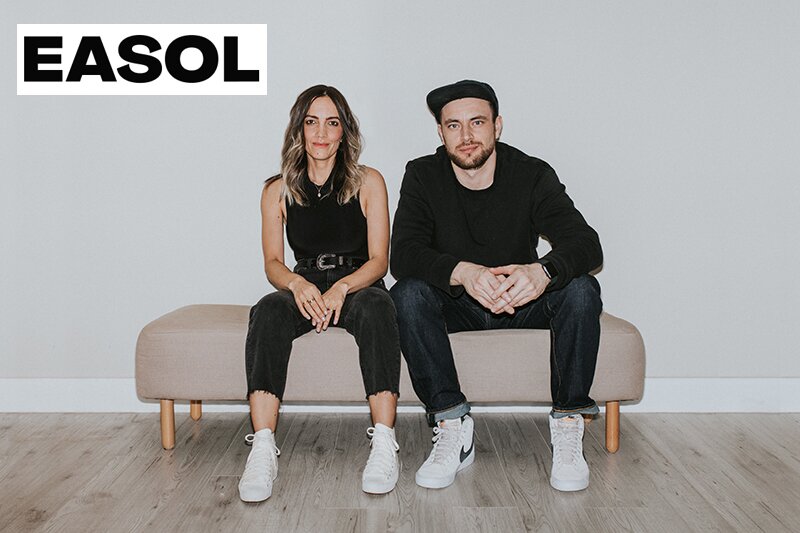 Company Profile: How the Easol toolkit is inventing 'experience e-commerce'
The British travel start-up is supporting a new generation of creators, says founder Lisa Simpson
Lee Hayhurst visited the Hackney offices of an innovative British travel and events start-up supporting a new generation of creators where he met founder and chief creative officer Lisa Simpson and experience expert Adeyemi Adeyosoye
The old saying goes that a bad craftsman always blames his tools, but when it comes to selling experiences online no amount of genius or creativity can make up for a dodgy toolkit.
No one knows this better than Lisa Simpson, co-founder of London-based Easol, a fast-growing start-up founded in 2017 that is providing a platform for a new generation of travel entrepreneurs.
Based in trendy east London, Easol refers to its clients as 'creators' because not only are they on the front line creating experiences, but use the capabilities of the Easol platform to retail and showcase them.
Simpson explains how the concept for Easol was born out of the frustrations she and her husband Ben had having founded the annual Rise music and snow sports festival in Les Deux Alps.
"What we were operating with Rise was a really complex destination event," she said. "We were selling tickets, accommodation, transport, and experiences.
"To do this we were using multiple platforms, all charging us and our customers fees and all retaining our customers' journey information so we couldn't figure our analytics or do things like retarget.
"We were putting complex packages together for customers, but it was really cumbersome and we could not keep track of what stock was available. Everything had to be done manually.
"Plus, it was a terrible experience for our customers because they were having to go through all these different platforms to book. We thought there has to be a better solution.
"But after we looked around for months we got to the stage where we said we can do this, let's build our own."
The Easol platform was developed to provide a full suite of tools for brands to go to market in ways that traditional e-commerce sites that sell things not experiences aren't capable of supporting.
Think of it as a Shopify but for travel, cultural and leisure experiences. "Creating experiences is a bit like art," says Simpson.
"The old ways do not work for experiences because they were not built for experience creators. They are not built for complex departure dates across multiple locations.
"We help to sell moments, not things and what we have actually done is invent a completely new category of commerce called experience e-commerce."
As well as a website builder with templates for experience types like retreats and festivals Easol syncs a multi-currency payments solution and a full suite of marketing tools backed by a 24/7 support team.
This is all offered on a subscription basis with a tiered model ranging from the entry-level 'Start', costing from £5 a month, to 'Pro' from £1,666 a month.
In bringing experiences experts and creative entrepreneurs together it has also forged an online community that shares knowledge in areas like brand building, website design and content creation.
The potential for Easol to tap into the on-trend experiences sector associated with an emerging millennial and GenZ generation of consumers has not gone unnoticed.
After selling its first experience for Lisa and Ben's Beyond Sahara adventure travel brand on its 'minimal viable product' platform in 2017 it secured backing from the prestigious YCombinator accelerator.
By 2019 it had 100 creators using the platform, and in 2020 secured $4.5 million in seed funding before the big launch of its current platform and a $25 million Series A in 2021.
Simpson said: "What our creators are responding to is this whole idea of our generation wanting experiences.
"They travel based on their passions and interests, things that excite them, things that fulfil them intellectually or from a wellness perspective or learning a new skill."
Adeyemi Adeyosoye, an Easol experience expert, explains why the clients he works with to get the most out of the platform choose to use it.
"We have built this toolset specially for experience creators," he says. "And we immerse creators in the experience right through the booking journey.
"They need to feel like the tool works and meets all their aspirations on the platform. And so we put the power back in the hands of creators at a fraction of the cost of alternatives."
Adeyosoye ran through three case studies demonstrating how clients have succeeded using Easol.
The Envision festival in Costa Rica did not want to increase attendee numbers, but wanted to sell more add-ons to increase revenue per customer.
Easol gave it a way to merchandise ancillaries like local tours and provided much more intuitive check-out experience and payments plans with deposits and instalments.
The results were impressive with revenue increased by six times and consumer spend up 300%.
Experience holidays specialist Untravelled Paths migrated from an in-house solution to make updates easier and to provide more personalised offers via Easol's recommendation engine.
"Before it would take them two years to launch a new experience, with us it can take a week," said Adeyosoye.
Finally, Unplugged launched digital detox retreats during the COVID pandemic and was looking for a premium web experience to rival competitors using the likes of Airbnb.
Easol supported it offering a deposit payments plan and today social requests are driving 75% of their conversions.
Adeyosoye said: "Creating businesses from their passions is where our creators are coming from. When they see what we can do for them we hear things like 'I'm so relieved I found you guys'."
Future developments for Easol will see a themes store emerging organically from the use cases of current users. "We're about to launch the best festival theme on the planet," said Simpson.
It will also look to integrate more travel API feeds like accommodation and flights, which would support licenced package travel companies using the platform to provide a full-service travel experience.
A recruitment drive will also aim to increase headcount to 100 with new roles in product and customer success. For three-and-a-half years Easol had just five employees but the firm has trebled in size in the last three months.
And as travel begins to re-open following the pandemic, Easol is looking forward to growing with its clients having switched its model during COVID to subscriptions and away from transaction fees.
"That was a pretty big risk for us as a business," says Simpson, "because taking less of a transaction fee is risky but it's really paid off because we can be really competitive.
"It means the more transactions our creators do, the more sales they make, the fee effectively reduces. That's unheard of in this space but we want them to succeed and grow on our platform.
"And we don't lock them in to contracts because that did not work for us when we were using other platforms. If the platform does not work for you, you should be able to leave at any time."
While Easol currently works with a lot of small niche creators, like the A Week Awake radical surf experiences for women in Costa Rica, it is also attracting the interest of larger organisations like Wanderlust, cycling brand GCN, and The Times parent News UK.
Simpson says she anticipates increasing interest from larger enterprise clients with communities of dedicated fans of their consumer and lifestyle products looking for them to extend their offering by providing relevant experiences.
"Brands will want to amplify their marketing by creating experiences for their customers they can spin up really quickly, that's where the future of brand marketing is going to go.
"The way this space is going to evolve for travel businesses is they are going to be trying to connect with consumers in a full cycle loop in a much more  the booking period."