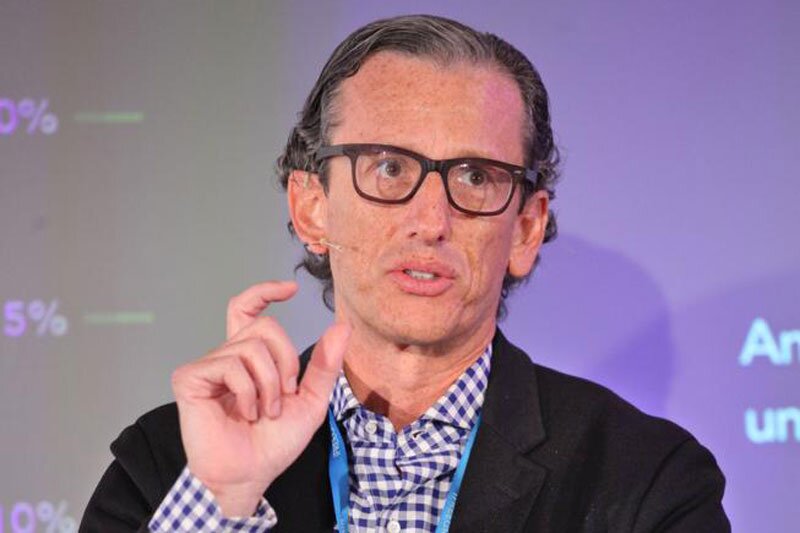 Big Interview: Get data ready for the travel rebound, whatever it looks like
Prepare, prepare, prepare, says intent's Richard Harris
Lee Hayhurst caught up with former Travelocity senior vice president and co-founder of intent, Richard Harris, to hear his thoughts on the COVID-19 pandemic and the impact on travel
Signs of an ecommerce rebound in China following the peak of the coronavirus outbreak are encouraging, but any return of the travel sector in the west is expected to start domestically.
Intent co-founder and chief executive Richard Harris offered his assessment of the travel market's prospects in a COVID-19 Travolution webcast from his perspective where he is based in New York.
He said he expects to see early signs of a recovery with the big players in travel like Expedia and Booking.com but the sector as a whole will struggle to rebound entirely until a vaccine or cure is available.
He said: "Generally, the signs in China for e-commerce are pretty encouraging. They're already starting to release March numbers well above the previous year's and are also starting to make up for what were terrible numbers in February. But there's more limited data on the travel side in China.
"Here, I think there's just a real lack of clarity about whether travel is going to lag behind the rest of the economy and the discussion in the US, as I think it has been in Europe, is now shifting from flattening the curve towards how we reopen the economy and what is that going to look like.
"But I think travel is going to have a pretty high bar in terms of traveller sentiment. And my expectation is that we're not going to see a sort of resumption to pre-COVID-19 levels of spend until there is at least a pretty credible therapeutic option for people who contract the virus."
Hotels and domestic travel to lead the recovery
Harris said he expects the early signs of a recovery will come from the big OTAs and a return to normal hotel occupancy levels but that it will be more hospitality-focussed than airline and international travel, at least initially.
"We have a few internal hypotheses about how the market is going to come back in the US, and one is the station wagon vacation – families piling into the car and visiting historical or patriotic sites, more old-school destinations that don't involve crowded interior environments. Those will be the early indicators."
Harris predicted a "patchy recovery" geographically with different regions of the world following their own trajectories.
"I was reading in The Economist the prediction around international travel, and international trade to some extent, is that we're going to see fortress Europe, probably fortress UK, and fortress US, until there is either a vaccine, or a very reliable medical therapy.
"And so in terms of travel that means borders could be closed for much longer than people might anticipate and that means that international travel is just not going to be an option for a lot of people, so it's going to be more explore your own backyard, for a while."
Use the downtime to get you data in order
For more than a decade Intent has been helping travel firms analyse their user data and assess the likelihood of any particular individual converting on their website when they land.
Its technology then allows the brand to provide to that individual an experience or service tailored to their likelihood to spend at that point in their journey.
Now, with little or no inbound traffic to analyse, Harris said firms are looking to reassess their operations and their approach to using data more intelligently, ready for the rebound.
"We are seeing inbound demand where, as people are seeing less of the daily grind of transactions, businesses are looking at infrastructure and what sorts of investments can they make to be ahead of the game, when the market starts to come back.
"And in particular, where we've seen a lot of interest is getting data in order and that real time predictive infrastructure, so that when the market begins to rebound and people do want to start marketing again they are in the best position to do so.
"So, one of the bigger functions that we play with retailers is when we deliver those real time predictions we activate them in their digital marketing campaign. You know how likely they are to convert before you make that bid, and that creates a lot of efficiency and reduced waste in digital performance marketing budgets.
"A lot of people who we've been in conversations with for a year now have this time and resource to focus on that, and it's all of a sudden become a real priority before they start spending millions of dollars in Google again."
Harris said the downtime created by the COVID-19 lockdown is an opportunity for firms to refine their data which, like oil, needs to be refined if it is to be useful and meaningful to be used when the market sparks back to life.
"Oil has to come out of the ground and be refined in order for it to have any value and it's the same with data. It needs to be managed properly, accessed and then turned into predictions and insights, so if you have some downtime get those fundamentals in order.
"This is this most important asset that you have, it is critical you do this because if you don't do it the Big Datagopalists out there [like Google or Facebook] are going to do it on your behalf with or without your consent.
"The danger is that investment in technology is put to one side. Data is not discretionary and use of data is not discretionary. If you make the decision for cost savings and you need to dial back your investment in that, then partner with someone in the interim.
"For less than the cost of one data scientist you can have predictions to make your marketing more efficient. You can have a bleeding edge, machine learning prediction engine in place and doing all the things you need to do."
The travel industry re-set
So does Harris, who sold his original start-up Site59 to US OTA Travelocity before the economic crash after 9/11, expect this current crisis to prompt a major re-set in how key travel sector players like airline and hotel suppliers operate in terms of marketing and distribution?
He said there were two ways they could go; one that would see a doubling down on their direct to consumer strategies, further punishing GDSs and OTAs, the other might be to ditch that in favour of driving volumes back it at whatever the cost, but he admitted he has no idea which it will be.
"One way they could go is to say 'oh my God, we are so starved, so to put butts in seats or heads on beds, we don't care about our strategy of direct to consumer anymore. We just need to get capacity utilisation up, and so we'll figure all that stuff out later, just give me more and more bookings.
"That's one way, and we've seen that kind of behaviour in the travel industry before. The other way, if you're a Delta Airlines and you've been fighting GDSs and fighting OTAs, is you may say, 'you know what, our revenue is at something like zero today, I'm going to get back up to 100% the smart way, which is, I'm not going to be in the GDSs just as I'm not going to be in the OTAs, or I'm not going to pay them anyway'.
"I don't know where they're going to go or what the re-set looks like but my sense is with something as discretionary as marketing spend, certainly in the digital brands, and we see this particularly in retail,…I don't think they're going to go back to loose controls on their spend.
"I think they're going to come back in slowly, and they're going to apply maximum discipline so they look at this customer acquisition cost versus long term value. I think that's going to be even more important as they get back into the market and, and we're very good at helping with that."
The prospects for travel post COVID-19
Harris gave this assessment of the prospects for travel as the world emerges from the COVID-19 crisis:
"I'll actually just completely plagiarise some words that Tom Klein, who used to be the CEO of Sabre, said to me on the phone the other day, which is just whatever your worst case scenario is, it's probably not bad enough.
"I certainly don't want to be an advocate for job loss but as you think about what the future looks like just make sure that you are prepared to weather a scenario that is worse than you thought, or where the effects of this, economically, are longer than we thought or there's some element of it that we don't have visibility of right now.
"That said, I know travel is going to come back. The desire to explore the world and meet new people from new cultures will not go away. That is just implanted in the human brain. The question is when.
"And then, is there a new awareness of how vulnerable our globalised world is to these sorts of pandemics and how are we going to deal with those? So, I just say, prepare, prepare, prepare. That's it.
"And that's really tough in travel because people in travel tend to be very optimistic. The nature of the business, the product they sell, they don't want to be thinking about worst case scenarios but I think it's only prudent.
"As I said to my staff, when we decided to close our office and work from home, I really hope I am ridiculed for having been the alarmist in this situation. Nothing would please me more."