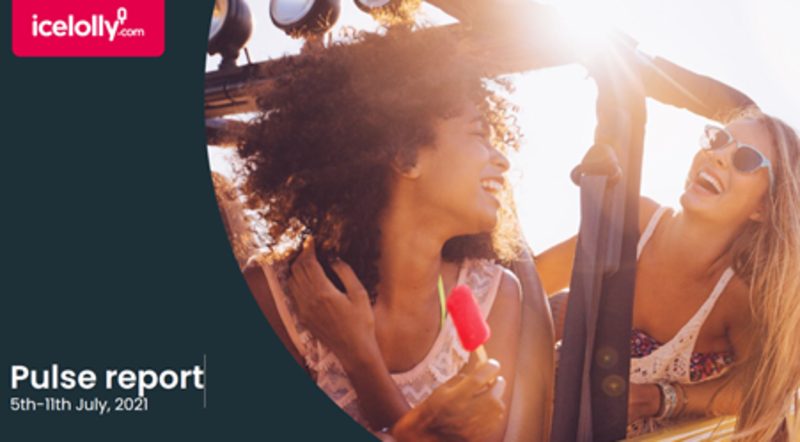 Icelolly.com Pulse: Amber rules relaxation prompts summer search increase
Latest holiday demand trends in the UK following last week's government COVID-19 update
Last week's relaxing of the rules for Amber listed countries saw an immediate impact on search activity for breaks this summer, according to the weekly icelolly.com Pulse report.
Overall share of search continued to move away from July and on to August, September and October with August and September seeing significant increases.
Meanwhile search activity for summer 2022 declined leaving it on 17% of all searches (down 2.9%) while summer 2021 accounted for 74.9% (up 0.6%), and winter 2021 6.2% (up 0.3%).
Majorca remained the most-searched, though its dominance reduced as amber list destinations gained share on the news that vaccinated travellers will no longer have to quarantine.
Gains were particularly acute after last Thursday's with Tenerife, Costa Blanca, Lanzarote, Algarve, Crete and Corfu all seeing increases.
Outside the top ten destinations, Rhodes was up 58% week-on-week, Kos 100%, Costa Dorada 48% and Costa Brava 78%.
Chris Webber, icelolly.com head of deals, said the latest data showed that people are still looking to get away on an overseas break as the school holidays start.
"There was increased interest in the classic beach destinations of Spain and the Canary Islands following Thursday's announcement around double-vaccinated travellers, though green list Majorca remained the most searched and most booked destination over the week," he said.
"Travel in August 2021 accounted for around a third of all searches and September also gained share as people look to secure a S21 getaway.
"With the school summer holidays around the corner for so many, UK searches are peaking for travel in the next couple of weeks."