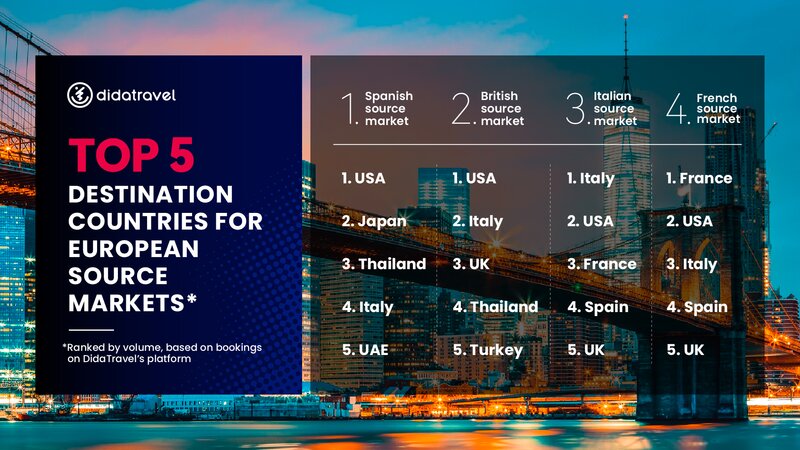 DidaTravel's European markets achieve extraordinary sales growth
Europe now represents over 20% of its total business
Chinese wholesaler DidaTravel has announced sales growth across key European source markets as part of its highly effective global expansion strategy.
The company embarked on its global expansion strategy in 2018, and the year-to-date 2023 sales significantly outperformed the same period comparing both 2019 and 2022.
This growth highlights Europe's increasing significance in the companies' business which now represents over 20% of its total revenue and continues to grow in significance.
The top four European source markets for the company are Spain, UK, Italy and France.
In the Spanish market, DidaTravel witnessed an extraordinary surge in growth.
Comparing year-to-date (YTD) 2023 sales figures with those of year-to-date 2019, the growth rate stands were 358%.
Even comparing the same period of the previous year (2022), the growth rate is 182%.
The top five destinations for the Spanish market booked via DidaTravel's platform are the USA, Japan, Thailand, Italy and UAE.
The UK is another source market where DidaTravel is making an impacT.
Its YTD 2023 sales growth rate versus 2019 stands at an impressive 341%, indicating a steady ascent in its influence in this important market.
Even compared to the year prior (2022), Dida has achieved a growth rate of 224%.
The top five destinations for the UK market, include the USA, Italy, UK, Thailand and Turkey.
Italy has experience a steady upward trajectory within DidaTravel's portfolio.
YTD 2023, the growth rate versus 2019 hit 312%. Compared to 2022, DidaTravel posted a sales growth rate of 97%.
The top five destinations for the Italian market, include Italy itself, USA, France, Spain and UK.
Finally, DidaTravel's entry into the French market, which commenced after 2019, is 356% compared to YTD 2022.
This rapid rise "highlights the company's ability to establish a strong presence in new markets quickly".
The top five destinations for French travellers are France, USA, Italy, Spain and the UK.
DidaTravel's flight business has also experiencing rapid growth.
In the first nine months of 2023, the airline ticketing business saw growth in its Asia, Europe, North America, and the UK markets with growth rates of 388%, 195%, 188% and 174% respectively, quarter-on-quarter in Q3.