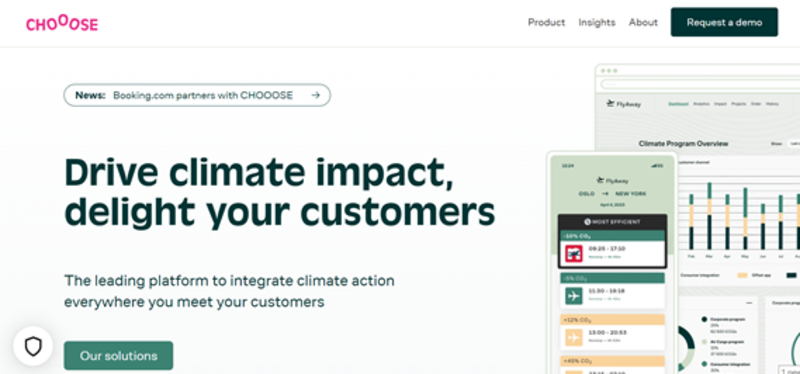 Climate tech specialist CHOOSE completes $15m capital funding round
The Norwegian firm is backed by Singapore-based GenZero and Ashton Kutcher-founded sustainability-focused investment vehicle SOUNDWaves
Norwegian climate technology company CHOOOSE has completed a $15 million capital funding round.
The firm has developed a Software-as-a-Service platform that allows its customers to integrate climate action into the experience they provide to their customers.
It works with firms in the aviation, travel and logistics sectors so they can build, manage and report on their climate impact mitigation programmes.
The funding round was co-led by GenZero, a decarbonisation-focused investment company owned by Singapore-headquartered investment company Temasek, and SOUNDWaves, a sustainability-focused investment vehicle founded by Ashton Kutcher and Guy Oseary.
Existing investors also participated in this round, including Shell Ventures and Vinyl Capital, among others. Other current investors include Amadeus IT Group and Contrarian VC.
The investment will see CHOOOSE expand its platform to support new enterprise sectors and broaden the portfolio of immediately available and emerging carbon solutions.
CHOOOSE customers currently include Air Canada, Booking.com, British Airways, Clarksons, Trip.com, Iberia, SAP Concur, Southwest Airlines, Japan Airlines, Freightos, and LATAM Cargo.
The firm said it plans to expand its footprint globally to provide greater support to its growing international client base.
Andreas Slettvoll, chief executive and co-founder of CHOOOSE, said: "The need for climate action has never been greater.
"And now everywhere we look, we see individuals and organisations wanting to factor climate impact into their decision-making, and to support solutions.
"But getting started can seem daunting – we know software can make this easier by embedding awareness and access to climate solutions in the right places.
"This is why we're building CHOOOSE. We are honored to have GenZero and SOUNDWaves lead this funding – both partners bring new technical competence and resources around climate and company building – and we cannot think of better partners in scaling the CHOOOSE platform and accelerating climate solutions."
Frederick Teo, chief executive of GenZero, added: "Many consumers and businesses are rightly concerned about their carbon footprint.
"This is especially true in the context of higher emission activities like air travel, but we see this rapidly becoming relevant in all sectors.
"To unlock these reductions, they need accessible, accurate emission information to decision on, and trusted ways of addressing the emissions that do happen.
"CHOOOSE's deep familiarity with sectors such as aviation and travel allows them to seamlessly embed robust and accurate emissions calculations and carbon mitigation solutions, including high-quality carbon offsets and SAF, within its user-friendly interface.
"This provides added assurance that consumers and businesses are effectively mitigating their climate impact, thus encouraging greater adoption."
Katherine Keating, managing partner at SOUNDWaves, added: "We see a future where it's possible to take climate action every time we pursue any activity – CHOOOSE is building software to enable this for both customers and corporates, and should be embedded in every platform."