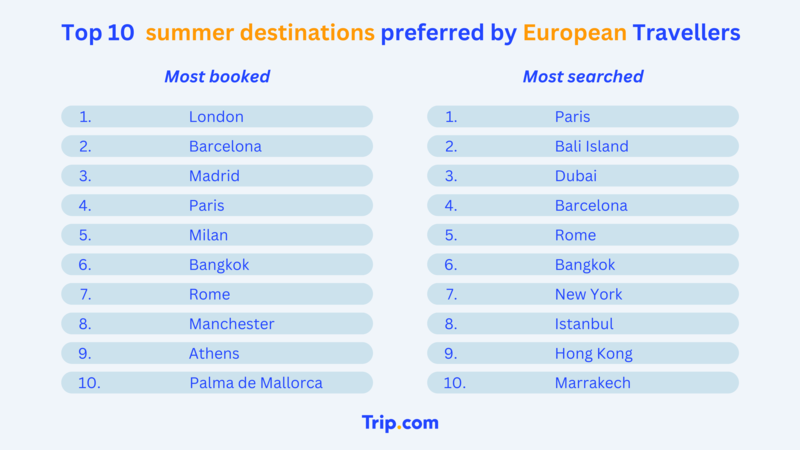 Trip.com reveals 2023 summer bookings surpass 2019 levels
Europe is seeing a 72% YoY increase in bookings
Trip.com has revealed data from their TripTrends series that global travel bookings for the summer, from June 1 to August 31, have already surpassed 2019 levels.
Overall, bookings on the Trip.com platform have increased this summer by 170% when compared to the same period in 2022.
The relaxation of travel restrictions in APAC means summer bookings have rocketed by 356% YoY in Asia, with European markets recording a 72% YoY increase this summer as well.
In Europe, nine out of the top 10 destinations booked this summer are European cities including London, Barcelona, Madrid and Paris.
Also on the list is Thailand's capital, Bangkok, which came in sixth on the top-10 most-booked destinations list for European travellers.
The search data found that European users are looking for hotels in Asian and Middle East destinations, with Bali Island, Dubai, Bangkok, Hong Kong and Marrakech listed in the top-10 most searched hotel destinations.
"We are witnessing a strong rebound in short-haul travel across all our global markets this summer," said Ray Chen, CEO of the hotel business unit of Trip.com Group.
"As flights and hotel capacity continue to increase, and the global industry is better prepared for welcoming back international travellers, we can expect a faster return of long-distance travel in the near future."