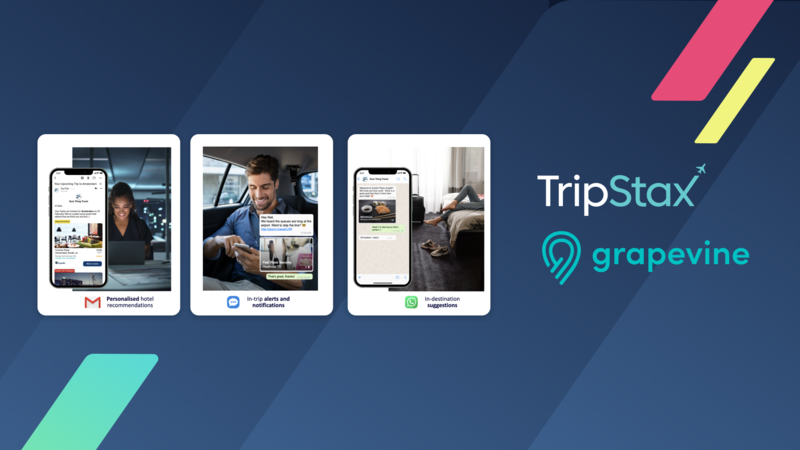 TripStax announces strategic partnership with AI-powered firm Grapevine
Grapevine will be integrated via API with TripStax's Core
Business travel technology specialist TripStax has announced it is continuing to scale up its technology proposition for TMCs with a new strategic partnership with AI-powered firm Grapevine.
The agreement sees Grapevine become integrated via API with TripStax Core, its central data-processing offering that consumes and manages a TMC's corporate client profile, booking and finance data across each fully integrated module in the TripStax eco-system.
The integration allows any mutual TMC clients to "seamlessly" and "quickly" implement Grapevine for its corporate customers.
TripStax has said its TMC clients can be onboarded to Grapevine, without "any friction, in contrast to many tech vendors".
Grapevine, a "first-to-market" AI technology, aids TMCs to increase attachment rates and "maximise" revenue per trip through intelligent, post-booking remarketing,
The collaboration between the two firms will also see TMC clients have access to "consistent" and "accurate" Grapevine booking data via the TripStax Core.
Jack Ramsey, CEO of TripStax, said: "We are constantly looking at ways to enhance our tech offering and proposition to TMCs and their own corporate customers.
"We are excited to partner with Grapevine as we share a similar vision as disruptors in the industry, helping TMCs to evolve their business and corporate client offering, become more competitive and open doors to new revenue streams.
"The integration of Grapevine into the TripStax marketplace, means it will be incredibly easy for our mutual TMC clients to switch on this innovative AI tech solution."
Jack Dow, CEO of Grapevine, said: "We are delighted to be working with the team at TripStax and to plug Grapevine into their innovative tech ecosystem for TMCs.
"This means that we can get mutual TMC customers up and running with Grapevine very quickly and cost-effectively.
"This is a major advantage for TMCs given that so many third-party tech vendor integrations are traditionally lengthy and costly.
"The other big advantage is that TMCs can have seamless access to accurate, real-time booking and profile data via TripStax."
He added: "We are already in late-stage negotiations to provide Grapevine to several TMCs who are also clients of TripStax and expect to announce these agreements soon."