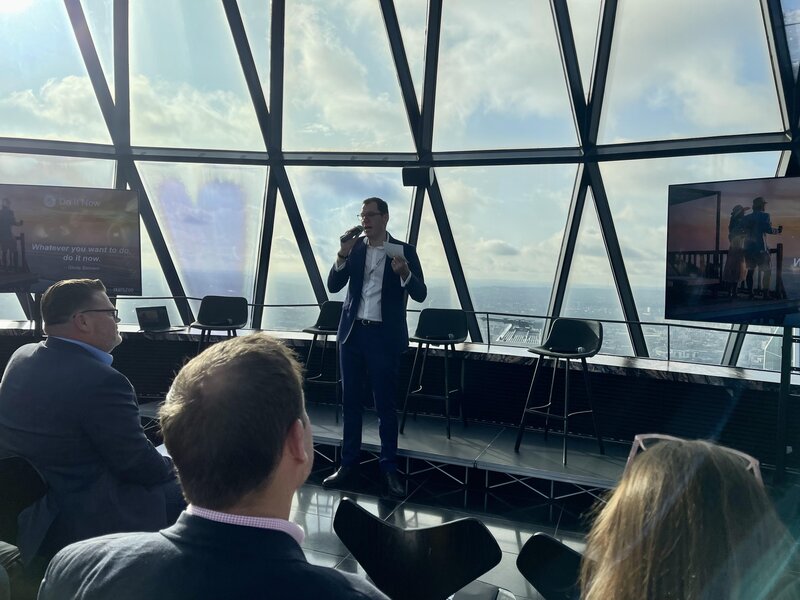 Travelzoo and Accord reveal top trends of 2023 and 2024 including tech
Industry event saw experts gather from across the sector to hear forecasts for 2024
Travel deals site Travelzoo and digital marketing agency Accord hosted a breakfast event packed with trends and insights yesterday.
The exclusive event, held at Searcys at the Gherkin, saw nearly 90 travel executives and press come together for a morning of networking and thought leadership.
The two firms led the event with opening keynotes on top trends with Accord's data showcasing 2023's learnings while Travelzoo shared insight into those emerging for 2024.
Jasman Ahmad, strategy director of Accord, shared the five top trends to come out of the industry in the last 12 months.
Ahmad highlighted that a market in recovery is what we've seen in 2023 with consumer confidence return, bookings build to pre-pandemic levels and that travel is now "a non-essential essential".
He went on to outline how 2023 saw ad spend in travel broke records, largely due to the bigger players such as Jet2 and TUI increasing spend, and that value is at the "forefront" of mind for travellers, with 68% saying they would rather see a price increase than a drop in quality of holidays.
In at number four, Ahmad explained how technology acts as a facilitator to the industry.
He quoted Mintel, one of world's leading market intelligence agency, that said: "Interest in Chatbots remains low but advancements made in generative AI are offering potential to make the holiday planning and boookig processes easier.
"This enables brands to provide immediate customer assistance and offer more conversational automated answers instead of links to search results."
Ahmad closed 2023's insights by revealing data on which media will see the most growth in investment overall in 2023 and 2024, all of which were digital.
Emerging trends to expect for 2024 were then shared with the audience of travel operators and tourist boards by James Clarke, general manager of Travelzoo UK.
Many were not surprised to see Cruise as top of the list of what Travelzoo members were leaning towards.
Clarke said: "Cruise is going to be big in 2024. In fact, it's going to be really big. On a recent survey that we sent out 84% said they were looking to book a cruise in 2024 and of which 67% said they are yet to book that cruise."
Cruise continues to offer value for travellers with its durations of stay, service and property stock with new cruise ships hitting the shores in 2024.
Other trends that Travelzoo pointed at include the fact people are looking for something different. Over 70% of members want to go to new destinations and so destinations like Montenegro, Jersey and smaller destinations in Italy as well as the smaller Greek islands have seen an uptake in popularity.
Travel to the far east is also prominent with trips to Japan and Thailand emerging as dream destinations among the company's members.
Clarke echoed Ahmad's point on value and revealed that travellers are looking to go further, for longer and for less.
He said with the emergence of air fares to the east cost and west coast of America for under £350 and with airlines like Norse growing its offerings, alongside UAE airlines offering cheap routes to the far east, the preference in length of stay is now between 11 to 14 nights.
Clarke unveiled responsible and conscious travel as the fourth trend. While he said that it was a "difficult movement", there is a real "boom" and movement in this market.
He referred to extension and dispersal in a bid to tackle travel that is more responsible.
Extension looks at when to take travellers to the hot destinations like Venice or Santorini and Clarke volunteered shoulder or off-peak season.
Dispersal is about inspiring travellers to go to different places including secondary or tertiary destinations such as Seville and Valencia instead of Barcelona.
Clarke rounded off with "do it now" as his final trend. Travelzoo are seeing from members that there's a "massive passion to have new travel experiences" after COVID.
The event concluded with a panel discussion led by Dean Harvey, brand director of Travolution's parent company, Jacobs Media Group.
Harvey moderated the panel on research and data insights within travel with representatives from Mail Metro Media, GWI and PwC as panellists.