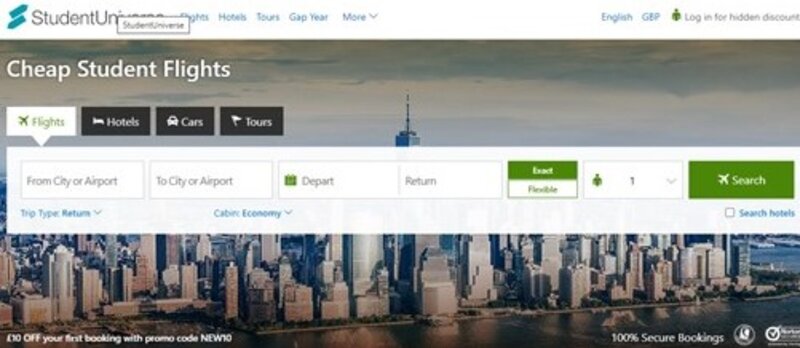 Youth travel booking platform StudentUniverse to enter Canadian market
Flight Centre specialist brand continues global rollout after expanding to Australia last year
Flight Centre-owned youth and student travel booking website StudentUniverse will launch in Canada later this year.
The move is part of ongoing global expansion plans and follows entry into the Australian market last year.
StudentUniverse launched in the US in 2000 before expanding to the UK in 2013 and was acquired by Flight Centre Travel Group in 2015.
The brand is headquartered in Boston with offices in London, Brisbane and the Philippines.
Managing director, Mike Cleary, said: "We're incredibly excited to share the news that StudentUniverse will be expanding into Canada later in 2020.
"With the UK second only to the US in terms of Canadian students studying abroad, and Canada being the fastest growing study abroad destination, it makes sense for us to be there – particularly at a time when students are looking for great value, 24-hour support, and an escape more than ever."
StudentUniverse said its expansion demonstrates an ongoing commitment in supporting UK inbound travel from the destination, while providing discounted travel deals to UK students looking to study abroad.
Cleary added: "This growth showcases our belief in a bright future for not only StudentUniverse but for the entire student and youth travel sector which like many established travel businesses, have been pushed to the limit as a result of the coronavirus pandemic."
StudentUniverse estimates that students contribute £25 billion to the UK economy and support over 200,000 jobs, and that young travellers are valuable to the destinations they visit.
"As well as investing in destinations, young travellers are amongst the most resilient and mobile groups out there," said Cleary.
"In our 20 years of supporting them in experiencing the world, we've collectively endured 9/11, the global financial crisis, and countless incidents of global unrest.
"Every single time the sector has come back stronger than ever. We believe that this time will be no exception."