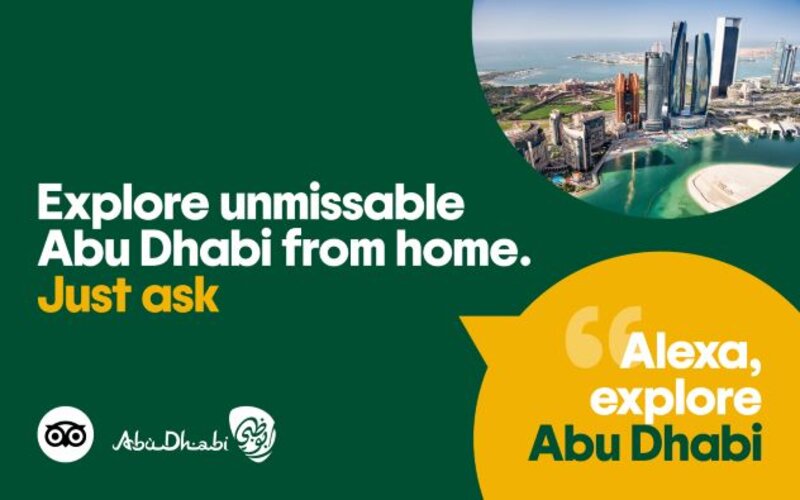 Tripadvisor claims world first with Alexa skill for a virtual experience of Abu Dhabi
Immersive voice tour of the Gulf state created for Amazon personal assistant devices
Tripadvisor has launched what it claims is the world's first virtual voice tour of a destination on Alexa.
The initiative has been developed in partnership with Abu Dhabi's Department of Culture and Tourism Abu Dhabi (DCT Abu Dhabi).
The Gulf state is the first country to test the new technology in the UK allowing user to experience the destination from the comfort of their own home.
With the command 'Alexa, Explore Abu Dhabi' users are taken on an immersive voice tour of the destination.
The themes and content within the experience have been selected based on Tripadvisor data and traveller sentiment.
The Alexa skill enables would-be travellers to choose their own adventure, presented with various options detailing what they can explore in Abu Dhabi.
Consumers can request which path to take following prompts from the Alexa device.
The full experience takes several minutes offering a choice of relaxation and nature spots, cultural wonders and restaurants.
The skill remembers the path a user has taken and presents different options when they return.
Early signs suggest the experience is performing well, said Tripadvisor, with thousands of customers having used for on average four minutes and answering approximately seven prompts.
Just under two thirds (60%) of users who were asked after listening to the experience said that it has made them more likely to visit Abu Dhabi in the future.
---
---
Christine Maguire, general manager and vice president global media business at Tripadvisor, said:
"I'm delighted to be announcing the world's first ever virtual voice tour of a destination on Alexa enabled devices and despite the obstacles the pandemic has thrown in the travel industry's path, the Tripadvisor advertising team continues to create innovative, data-driven campaigns as we help prepare the tourism industry for the pent-up demand coming their way.
"In addition to our DMO and travel partners, these media solutions can also help non-endemic advertisers reach the valuable high-intent travellers we serve.
"During these difficult times, the voice skill allows consumers to discover the wonders of Abu Dhabi from the comfort of their homes.
"As we've seen from our data and insights, throughout the pandemic, there has been bottled up travel demand and untapped wanderlust from our global travel community.
"This campaign and test of new travel planning and media technology, shows travellers that Abu Dhabi and the travel industry as a whole are ready to welcome travellers as soon as they are able to visit."
Ali Al Shaiba, ??executive director of tourism and marketing at DCT Abu Dhabi, added: "We've been working with Tripadvisor for many years and we're excited to be testing this new technology in the U.K. and launching this innovative campaign with them.
"It's been an unimaginable year for the travel industry but with the recent positive news of the vaccine, we're feeling optimistic about this year's recovery opportunity.
"We're ready for the surge of travellers waiting to explore the world again, and we will be there to welcome them with open arms."
The voice skill is being promoted to Amazon Music listeners through voice ads as well as with banner placements across Tripadvisor.
It is part of a wider campaign with DCT Abu Dhabi also including a range of branded guides to Abu Dhabi, custom videos as well as destination sponsorship.