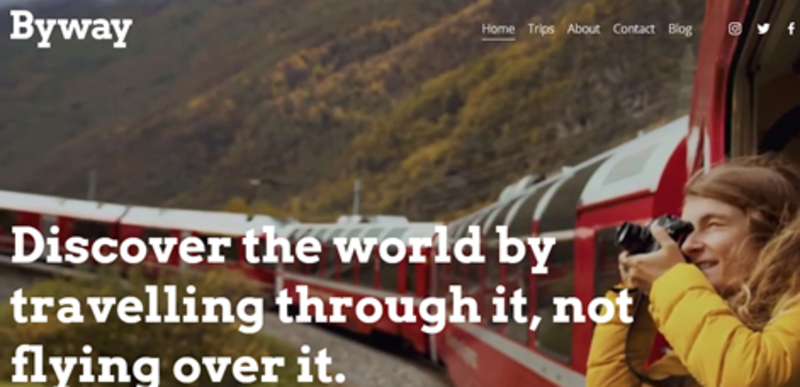 Travel start-up Byway awarded £100,000 from UK government sustainable innovation fund
Firm was launched during first COVID lockdown by former Founders Factory MD for travel and media Cat Jones
Travel start-up Byway has been awarded £100,000 by Innovate UK's Sustainable Innovation Fund.
The fund invests in projects that promote clean, sustainable growth and creates jobs and opportunities to combat climate change.
ByWay was launched this year to help travellers to choose more environmentally friendly forms of travel like train, boat and bike and to address issues relating to overtourism.
Cat Jones, chief executive and founder of Byway, said she was delighted that the form was being backed by the UK government as a risk taker in the sector.
"We founded Byway in March during the first lockdown, and launched flight-free holidays for customers in July.
"Since then we've helped customers slow down and discover the world on their doorsteps, exploring remote areas by train, boat and bike, and are proud of our five star reviews.
"The funding from our government grant couldn't come at a better time as we head into a second lockdown.
"It will allow us to double down on our technology and launch Abta-protected accommodation-inclusive holidays ready for when lockdown lifts."
Innovate UK executive chair Dr Ian Campbell said: "In these difficult times we have seen the best of British business innovation.
"The pandemic is not just a health emergency but one that impacts society and the economy.
"Byway, along with every initiative Innovate UK has supported through this fund, is an important step forward in driving sustainable economic development."
Jones added: "We see a post-COVID world in which flight-free holidays are normal, and a vibrant travel ecosystem flourishes away from the beaten path.
"Current ground-travel route planners…optimise for speed or cost. With Byway, we optimise for experience.
"The technology this grant is funding will allow us to dynamically package multi-modal ground transportation with personalised experiences and accommodation in a way that's never been done before, to create custom slow travel adventures built to the preferences of each customer."