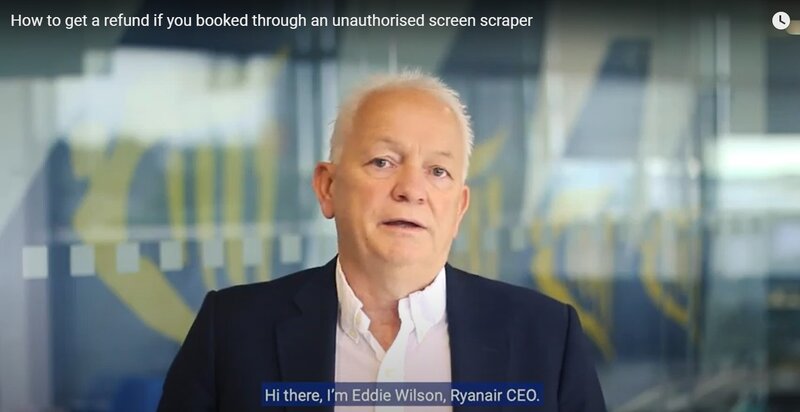 Coronavirus: Ryanair names 'screenscraping' OTAs it alleges are preventing refunds
Carrier accuses lastminute.com, On The Beach, kiwi.com and Love Holidays of hampering refunds process
Ryanair has launched a new customer verification process for customers who booked through third party OTAs.
Last week, Europe's biggest low cost carrier blamed what it describes as 'unlicenced' websites for blocking COVID-19 refunds by not passing on customer contact details.
Today it named lastminute.com, On The Beach, kiwi.com and Love Holidays among the OTAs it says are frustrating its attempts to deal with customer requests.
The carrier has created a new customer verification page for non-direct bookers to verify their details so they can claim a refund, or change their flight, or accept a voucher.
The airline also said it has reported the OTAs to regulators in the UK and Ireland to force them to use genuine customer details when bookings Ryanair flights on their behalf.
Ryanair has posted a video on Youtube featuring chief executive Eddie Wilson explaining the why the airline is struggling to deal with OTA customers and urging people to book direct.
The video depicts how agents booking Ryanair input fake customer names and email addresses and virtual credit card data which are not the cards customer pay the agents with.
In a statement, Wilson said: "While we are successfully refunding cash to millions of customers who booked direct, meaning we had genuine customer email contact and payment details, we have been  unable to deal with thousands of customers who booked through these unauthorised screenscraper websites because they provide false/fictitious customer contact and payment details when booking on Ryanair's website.
"These anti-consumer practices should be investigated by consumer associations and regulators to ensure that these unauthorised screenscrapers are forced to supply accurate customer contacts so that Ryanair can process customer refunds, flight changes and urgent travel notifications.
Wilson also claimed that in some cases agents are reclaiming refunds for themselves and not passing those on to consumers, although OTAs Travolution has spoken to blame airlines for holding on to customer cash and playing for time by making the refunds process laborious and time-consuming.
Ryanair says it now has staffing levels back up to normal and will clear 90% of all customer cash refunds by the end of July.