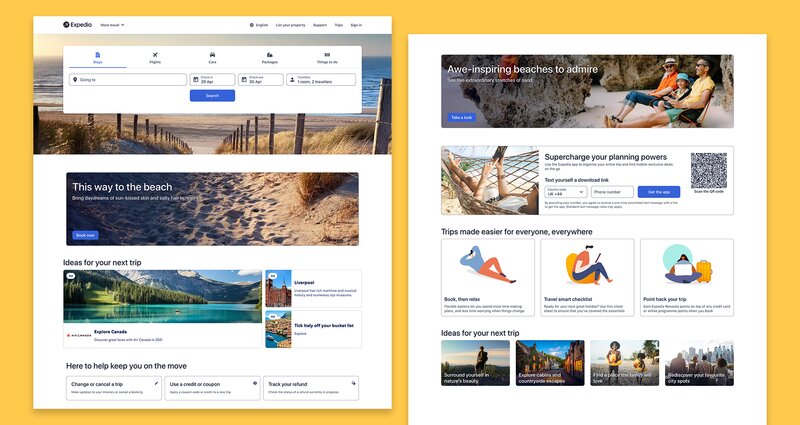 'Pivotal moment' for overhaul of Expedia as OTA unveils traveller-centric rebrand
Brand plans biggest marketing campaign for five years as travellers adjust to 'new norms'
Expedia has unveiled the efforts of a rebrand signalling a shift from a focus on purely driving volumes to delivering more of what customers want.
The global travel giant says the new positioning is based on consumer research it has conducted over recent months and a vision of travel after the COVID-19 pandemic.
It has set out its stall to become the "ultimate travel companion, helping travellers every step of the way" and says it marks a "pivotal moment" as it looks to overhaul its business.
Expedia says the unveiling of its new branding will be supported by its biggest marketing campaign in more than five years.
Under the tagline 'It matters who you travel with' travellers will be presented with the idea of Expedia as the ultimate travel companion.
In the US American actor, writer, director and producer, Rashida Jones, and in the UK and Europe English actor Naomie Harris will front a campaign
Both will represent Expedia's new brand attributes – intuitive, travel-savvy and positive – the OTA said.
Shiv Singh, senior vice president and general manager, Expedia Brand, said: "For the past 25 years, we've been focused on volume and transactions as our way of growing our business.
"What we've found however, over the past year, is that our customers want more from a travel company. They want a trusted partner who is there with them every step of the way, supporting them to ensure they get the most out of their trips.
"Like many travel brands, COVID-19 has forced us all to look inwards and reflect on who we are as a brand and what that means to our consumers.
"It became clear to us that in order for our travellers to have an amazing trip, it matters who they travel with, and we need to understand the important role we play in being that partner.
"As travellers adjust to the new norms post-COVID, we must adjust as well, and this is just the first chapter in a multi-year journey to really deliver against our mission of being a brand that is there for travellers from start to finish."
Expedia has refreshed the customer experiences across its portfolio of travel mobile apps and more than 70 websites.
The brans said a new home screens reflects "a clear and simple layout, with product features that will empower travellers to build a complete trip that suits their needs and interests, bringing together multiple trip elements seamlessly".
Along with the ability to purchase flights, lodging, cars, activities and more on a single platform, Expedia has introduced a series of updates aligned to its new brand vision.
Expedia has introduced a new itinerary planner which keeps the details of customers' trip pin one place.
And it is planning to launch a new package offering that will provide pre-bundled products with upfront total pricing.
Over the coming year Expedia will roll out a simplified and more transparent ravel insurance customer experience to help customers understand and choose the best policies.
And it will also further develop its virtual ravel agent platform, offering a one-click cancellation functionality and additional service features.
Available activities close to customers' chosen destination will also be highlighted and available to book post-booking and in-trip.
Expedia also announced its Rewards program will be simplified by merging with the existing account setup process.
The firm said this will see 25 million travellers who are not already enrolled in Expedia's loyalty program to start earning points on travel experiences the next time they log in.
Expedia will introduce more benefits this year while making it easier for travellers to understand how they can earn and use points.
A clearer and more transparent flight shopping process has also been launched so consumers can more easily decide which offers are best for them.
And, in a further development of the accommodation retail experience, users can filter for amenities like parking, or complimentary breakfast to improve comparison shopping.
Singh added: "Our new brand positioning acts as a promise to the traveller who wants to be engaged by possibilities, but now more than ever needs to feel supported throughout their journey.
"We know that people want to get back to travel, we want them to feel confident in the travel experience they can have with Expedia."