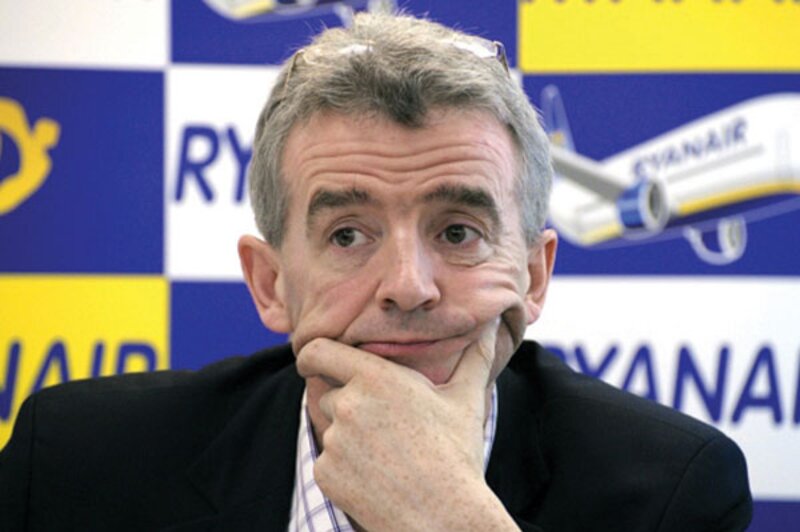 'Pain in the arse' OTAs book 20% of Ryanair flights, reveals O'Leary
Airline chief admits underestimating proportion of sales through agents
Ryanair chief Michael O'Leary hit out at online travel agents (OTAs) as "a pain in the arse" while conceding they accounted for 20% of the airline's pre-Covid-19 bookings.
O'Leary, the Ryanair group chief executive, admitted underestimating the proportion of Ryanair bookings made by OTAs, conceding it was double the amount he has previously claimed.
Speaking as Ryanair reported a loss of €815 million for the 12 months to March as the airline's traffic plunged by 81%, O'Leary said: "It's very difficult to be precise. Some of these OTAs are very sophisticated.
"We thought pre-Covid it was around 10% of bookings [made by OTAs]. We've learned it is probably higher than that. It was probably about 20% in the run-up to Covid."
He insisted: "They are a real pain in the arse these OTAs, disrupting our communications with customers."
Ryanair has consistently blamed OTAs 'screen-scraping' its website for its failure to refund some passengers for cancellations due to Covid-19.
It argues the OTAs withhold passenger contact details from the carrier and submit false credit card details. Ryanair refuses to pay refunds via the OTAs, insisting customers claim refunds direct.
O'Leary admitted: "We've had a huge problem with a small core of customers where we have fake customer contact details and fake credit card details, and the regulators have done nothing about it."
He argued: "To me it's computer fraud. I can't understand why the EC and the regulators won't tackle this issue. OTAs are overcharging our customers and then giving us fake contact details."
O'Leary added: "We're doing everything we can to get customers to book direct with us." He insisted: "We've transformed the way we process customer refunds."
Eddie Wilson, chief executive of Ryanair, described it as a "cat and mouse game" with the OTAs and suggested the reason OTA On the Beach recently withdrew from selling holidays from the UK until September was because of its difficulty in paying refunds for cancellations of Ryanair bookings following changes to the Ryanair website.
Wilson noted "customers can enter their passenger name record [PNR details] now" meaning Ryanair has the contact details even if the bookings were not made direct.
He insisted: "The tide has turned. On the Beach decided not to sell any holidays for this summer.
"A lot of OTAs do not have the back-up to deal with the disruption of Covid and we are seeing that now."
However, On the Beach dismissed Wilson's remarks.
Chief executive Simon Cooper said: "We've been very clear that our decision to temporarily stop selling holidays for this summer has been taken because this is the right thing to do for our customers.
"Misleading customers by encouraging them to make new bookings for the coming months, when we do not have a clear understanding as to whether their holiday will go ahead, or of the level of inconvenience or incremental cost it might bring, is neither in their interests nor ours."
Cooper added: "On the Beach's business model means we're able to put customers' best interests ahead of getting cash through the door at any cost.
"We continue to refund all those with cancelled holidays within 14 days of cancellation and in cash.
"Often this involves providing a refund well in advance of us receiving monies from the airline, which in the case of Ryanair has regularly involved lengthy delays."