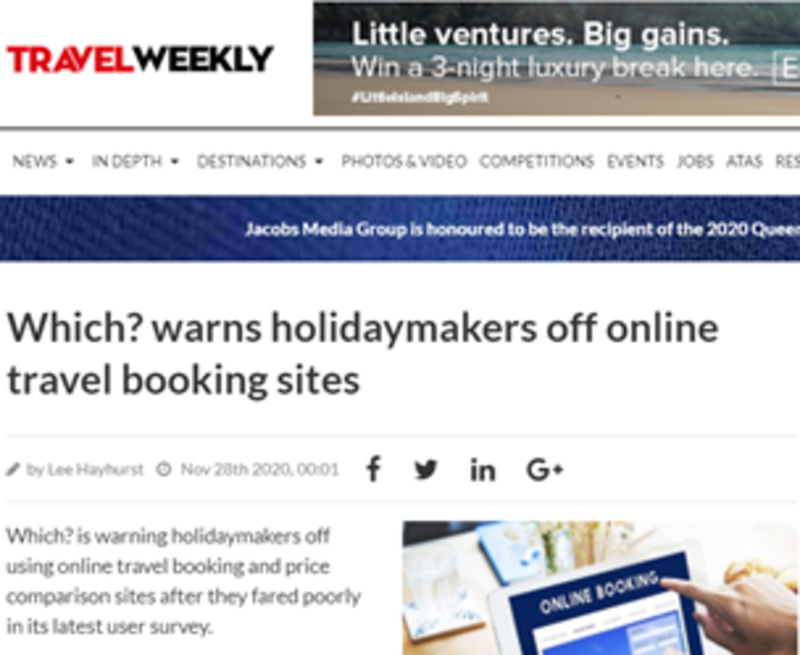 OTAs hit back after Which? urges consumers to avoid them
Influential consumer watchdog releases results of a survey of 5,000 members
Leading European OTAs lastminute.com and Opodo have hit back after a Which? study saw the UK consumer watchdog advising consumers to avoid using online agents.
Which? surveyed nearly 5,000 of its members about their experiences with various online  travel booking sites.
These were placed into three distinct categories: flight booking sites, accommodation booking sites, and travel comparison sites.
Respondents rated sites on criteria including functionality, prices and transparency of fees, with many sites earning an overall lower score than they did last year.
Which? said the survey highlighted "a slew of problems with using booking sites" which it said had been exacerbated by the COVID pandemic.
Netfligths, Airbnb and Skyscanner avoided the worst of the criticism but Which? was scathing about others including lastminute.com and eDreams ODIGEO owned Opodo.
In a statement lastminute.com said: "Customer satisfaction is our highest priority, and we are always trying to improve our processes to provide best possible products and assistance to our customers.
"While we recognise the importance of Which? independent assessments in the interest of consumers, we would like to point out some important information that shine a light on the circumstances of the survey.
"First of all, the survey has been carried out during the summer when the erratic decisions of the UK Government, with air corridors to top destinations such as Spain, France and Portugal opening and then slamming shut again within weeks without any notice, caused a massive disruption and confusion for many customers.
"At the same time, we need to acknowledge that the travel ecosystem is extremely complex with many different players (suppliers, agents, B2B wholesale intermediaries, marketing channels like meta searches etc) acting with very diverse business models and this is not always reflected in the comparative tables produced by Which?.
"Only a very small number of consumers were included in the Which? survey (81 respondents for flights and 84 respondents for accommodation).
"If we consider millions of people that have travelled with us, the sample of this survey is far from representing the British holidaymakers. However, every piece of customer feedback is valuable and will be taken onboard to further improve our processes.
"Considering those points, we believe that this survey doesn't reflect the extreme circumstances of COVID-19 pandemic and the complexity of the industry, causing widespread disruption to travellers this year across the globe and does not capture the overall experience from our customers, across all our product offering."
An Opodo spokesperson said: "We regret to see that Which? hasn't taken into account the pivotal role that an online travel agent has in the travel industry, and the unquestionable added value that it provides to both consumers and travel providers.
"When booking with us customers receive unrivalled choice and flexibility, we have access to 667 airline partners, over 274,000 flight routes, and more than 2.1 million hotels across the globe, all in a one-stop shop.
"We are able to connect customers with the widest choice and combine air fares, routes and airlines that cannot be provided when booking direct. The breadth of choice on offer is a key benefit to booking travel with an OTA.
"While each and every one of our customers is important to us and we strive for 100% customer satisfaction, the number of responses to the Which? survey from Opodo customers (93) is very limited. This small sample size is not reflective of the 17 million customers that we have worldwide.
"Our priority this year has been to manage all the cancellations produced as a result of COVID, and we have already refunded over one million tickets and 100% of package holidays.
"However, airlines continue to withhold refunds that belong to consumers. Carriers are responsible for authorising refund requests and actioning the transfer of funds.
"We are unable to provide our customers with refunds until this step is completed by airlines, and their delays are contributing significantly to the amount of time our customers are having to wait.
"We regret that travellers are suffering from these unacceptable delays, caused by airlines not complying with their obligations and failing to respect consumer rights.
"We appreciate the current travel environment is frustrating for our customers; our teams across the business are working hard to alleviate this as much as possible."
Henry Sunley, managing director of Netflights, said: "We're pleased to top this poll of flight booking sites for the third year in succession.
"We're particularly happy to see we scored highest for flight prices and overall functionality among the Which? readers, and are now focused on exceeding our 2019 customer satisfaction levels in 2021.
"After what's been a very difficult year, with a prolonged period of tight cashflow control by airlines causing the delay of refund payments by retailers like us, we'll continue to invest and innovate in our online experience and service offering to ensure British consumers can trust in the choice, value and protection we can offer them when it comes to booking their travel."
Rory Boland, editor of Which? Travel, said: "Booking sites have been seen as a hassle-free way to find the best deal on travel or accommodation when booking a holiday, but our survey highlights serious problems, from dodgy refund policies and unwelcome admin fees, to non-existent customer service.
"This year has shown us that nothing can be guaranteed when it comes to booking a holiday, so it's more important than ever to ensure the company you're booking with can be trusted with your money.
"With a couple of notable exceptions, booking sites have let their customers down on this front, so the best way to ensure your money is in safe hands is to book a package, hotel or flight directly, and only with a reputable provider."