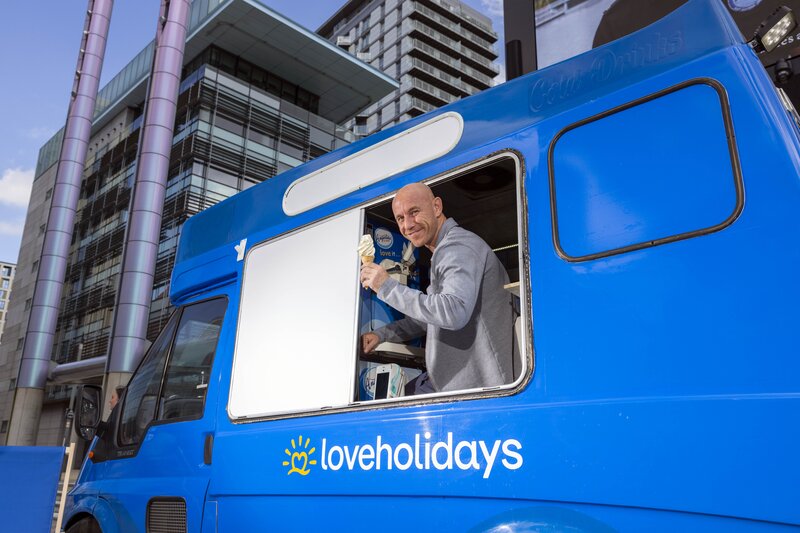 Loveholidays and Salford City Football Club celebrate sponsorship by handing out free holidays
Former footballer Nicky Butt surprise Salfordians with ice cream and vouchers
Salford City Football Club have celebrated a new sponsorship deal with loveholidays as its official holiday partner for the 2023-24 season.
As part of the deal, loveholidays will sponsor the club's matchday highlights, run a matchday activation and support exclusive holiday-themed competitions for fans throughout the year.
To mark the news, former footballer and CEO of Salford City Football Club, Nicky Butt, surprised Salfordians on Thursday afternoon by giving away ice cream and free holidays.
Butt, alongside Salford City player Liam Shephard, teamed up with OTA loveholidays to offer members of the public ice cream in MediaCityUK, Salford.
In addition to serving ice cream, the duo stunned five lucky people by handing over free holiday vouchers alongside a sweet treat.
Katy Leeson, marketing director of Salford City Football Club, added: "We're pleased to welcome loveholidays on board for the 2023-24 season, and we are really looking forward to working closely with them.
"As a club we want to work with the right partners, and as a growing brand looking to offer the lowest priced holidays for our supporters and the Salford community, this is a great opportunity."
Al Murray, chief marketing officer of loveholidays, said: "We're delighted to be joining Salford City Football Club as its official holiday partner and are looking forward to supporting the club this season.
"To celebrate our partnership, we wanted to bring some sunshine to Salford with the help of Nicky and Liam. We're really excited to help the lucky recipients of holiday vouchers to head off on their travels soon."
Earlier this month, the OTA was also unveiled as Edinburgh's Heart of Midlothian Football Club's back of shirt sponsor for the 2023/24 season of the Scottish Premiership.
The move marks loveholidays' first-ever shirt sponsorship deal and reflects its renewed focus on brand marketing to support its continued growth.