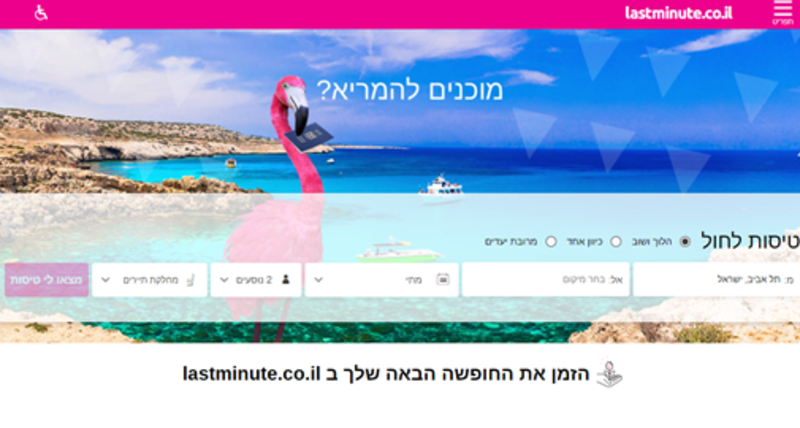 Lastminute.com parent launches Israeli OTA in partnership with Issta Lines Group
Successful COVID vaccine roll out expected to boost demand from travellers in the country
Lastminute.com parent lm group has launched a new Israeli OTA in Hebrew thanks to a joint venture with Issta Lines Group.
Lastminute.co.il retails flights from Israel using lastminute.com's technology platforms coupled with Issta's localised presence, and commercial agreements in the region.
Work on the joint venture started in 2019 and it was decided now was the right time to launch with Israel leading the world in its COVID-19 vaccine roll out.
The country is also opening up to more international travel with agreements like the Abraham Accords recently signed with the United Arab Emirates.
Lm Group said the new OTA will offer Israeli customers the "best prices" and "the best customer support at a local level".
"This unique combination means the two travel experts can bring something fresh to an exciting market and benefit from the accelerated shift worldwide from offline to online as lm group targets Middle East expansion for 2021 and beyond," it said.
---
---
Andrea Bertoli, managing director of the OTA, said: "2020 was a very challenging year for the travel industry, and in fact, the whole world had to face an unprecedented pandemic crisis.
"Despite this, we felt that the moment to build for the future is now and this is the right time to grow into new markets and segments.
"Especially as we see the first signs of market recovery, thanks to the vaccine, with booking confidence in Israel, as well as the UK, growing week-by-week.
"This is why we're delighted to launch our first joint venture outside Europe into Israel and MENA."
Achishai Gal, chief executive of Issta, confirmed the long-term plan was for lastminute.co.il to form the basis of entry into the Middle East.
He said: "There's great interest in the Israeli market from across the world by huge companies due to the great potential inherent value in it, for example, the number of Israelis who flew abroad in the year before Corona was the same as the number of residents in the country (about 9 million). This is just the beginning."
Darren Rozowsky, chief executive of lastminute.co.il, said he expected the jet-setting Israeli public to take to the skies as soon as possible.
"We believe that in addition to our technological algorithms and smart pricing, our commercial agreements are robust, local and international, and we can ultimately bring the end consumer an excellent product and local service at an attractive price."
Bertoli added: "Issta Lines Group is an incredibly forward-thinking travel operator which comes from an entrepreneurial journey of organic and merger and acquisitions growth like ourselves.
"We can see great things ahead by combining our flight expertise, supply and technology with their local knowledge & regional commercial expertise."