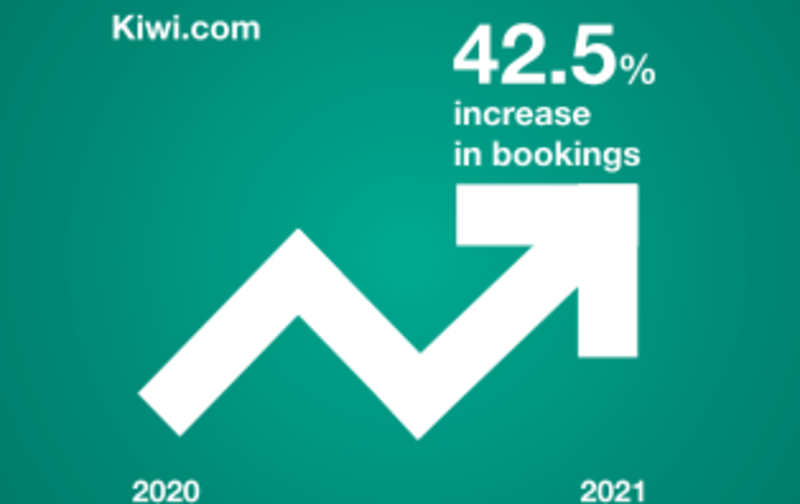 Kiwi.com predicts lower prices in 2022 as data shows travel recovery in 2021
OTA publishes data showing booking levels last year were up 42.5% on 2020 levels
OTA Kiwi.com has reported clear signs of a recovery in travel in 2021 with booking volumes in the year up by 42.5% on the highly disrupted 2020.
Data released by the online brand revealed the US was the most popular destination last year followed by Italy, Spain, Turkey and Mexico.
The firm said customers visited 210 countries and 2,842 cities in 2021, traveling a total of 7.93 million kilometres – approximately 197,869 trips around the Earth.
Bookings were mainly focused on domestic and intercontinental travels, with half of all reservations being made for journeys within Europe.
Kiwi.com customers' average spend on tickets for travel during 2021 was €219 – 12.7% less than in 2020 (€251) and 27.7% less than in 2019 (€303).
Forty-one percent of travellers spent less than €100 and 25%, between €100 and €200. The average spent on short-distance trips was €138; medium-distance €241; and long-distance at €682.
Mario Gavira, vice president of growth at Kiwi.com, said he anticipates prices continuing to fall in 2022.
"Regular airlines will continue to operate a reduced flight network since it is likely that their most profitable segment, business travel, remains significantly below pre-pandemic levels.
"This will give low-cost airlines more options to expand to new routes. Low-cost airlines demonstrated last year that they can operate higher capacities at a profitable level with extremely attractive prices for travellers thanks to their reduced cost base and their ability to generate revenue with other services.
Gavira added: "We also saw strong demand for our unique content as Virtual Interlining provides our customers alternative routes to their destinations that other providers cannot offer.
"This was particularly relevant for customers where our flight combinations provided the only way to reach their destination"
The booking window on Kiwi.com in 2021 was, on average, 18 days, compared to 26 days in 2020 and 30 in 2019.
Last minute purchases were popular among passengers in 2021, with 27% of passengers booking their trips just three days before departure.
Passengers booking one or two weeks before the departure made up a total of 18% and one quarter bought their tickets three weeks to two months in advance.
Searches for travel on Kiwi.com in 2021 exceeded 21 billion clicks, with Barcelona, Cancun, Dubai, Istanbul, Los Angeles, Madrid, Miami, Moscow, New York, and Paris being amongst the most searched destinations.
In total, more than 220 different nationalities travelled in 2021 with Kiwi.com.  Travellers from the US travelled the most, followed by Russians, Ukrainians, Italians and Romanians.
The most popular travel months were December, October, and November with almost 60% (59.97%) of the bookings made to travel during 2021.
Kiwi.com data showed that people in 2021 booked their trips mostly on Tuesdays between the hours of 5pm and 8pm.
The most popular travel days in 2021 were Fridays (17.72%), followed by Thursdays (14.68%) and then Saturdays (14.08%).
Over half of the bookings made during 2021 (54.3%) used Kiwi.com's self-connect technology which enables users to book flight options with over 750 carriers. In 2021, the site offered 1.64 million virtually interlined combinations.
The desktop computer remained the preferred booking tool (45%), while the mobile phone accounted for 38% and other devices such as tablets 17%.
Despite the fact the desktop is the preferred booking tool, the Kiwi.com app saw 1.43 million app downloads in 2021 and 2.1 million active app users.
The advanced pace of vaccination and the lessening of restrictions during the greater part of 2021, and prior to the impacts of Omicron, helped lower cancellation flight rates globally.
Kiwi.com data shows that in 2021, the cancellations were at 11.16% – 19.22% lower compared to 2020.
Cancellations by passengers dropped by 24%, while those carried out by the carriers have fallen by just over three times (3.14).