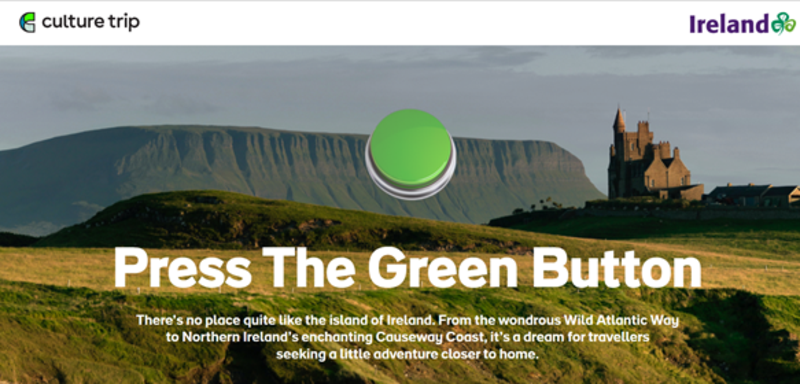 Culture Trip partners with Tourism Ireland on bespoke campaign
Travel content and e-commerce site promotes destination to its British audience
by Avery Ketcherside
Travel content and e-commerce website Culture Trip has launched a bespoke campaign for Tourism Ireland.
The campaign encourages the brand's British audience to book Ireland as their next holiday destination through Culture Trip.
The Culture Trip website will feature a Tourism Ireland hub showcasing curated content, experiences, an interactive map, and listings of places to stay on the island.
The hub is being promoted on Culture Trip's newsletter, homepage promotions, display ads, and social media.
It includes articles such as Incredible Places to Stay in Northern Ireland, 24 Hours in Ireland's Second Cities, Slow Adventures on the Island of Ireland:the Best Bits and more.
Julie Wakley, head of Great Britain at Tourism Ireland, said: "We're delighted to partner with Culture Trip on this engaging new campaign.
"The bespoke content created by the team perfectly encompasses why GB audiences should add the island of Ireland to their must visit lists, showcasing the great range of iconic experiences and exciting attractions on offer and inspiring and driving these prospective visitors to book their trip to Ireland now."
Antony Powell, Culture Trip client director, added: "We are proud and excited to have created a customised campaign for Tourism Ireland that inspires our audience to visit Ireland.
"The island offers incredible diverse Experiences and Places to Stay and we've brought this to life in a way we know our audience loves.
"We understand what our users are looking for, so we are able to come up with campaigns that really speak to these interests while at the same time deliver against our client's specific goals.
"Every month, millions of users come to Culture Trip for travel inspiration and many also now come to us to book travel — we offer a single platform that takes customers from inspiration to planning to booking and this is what is at the heart of this bespoke campaign".