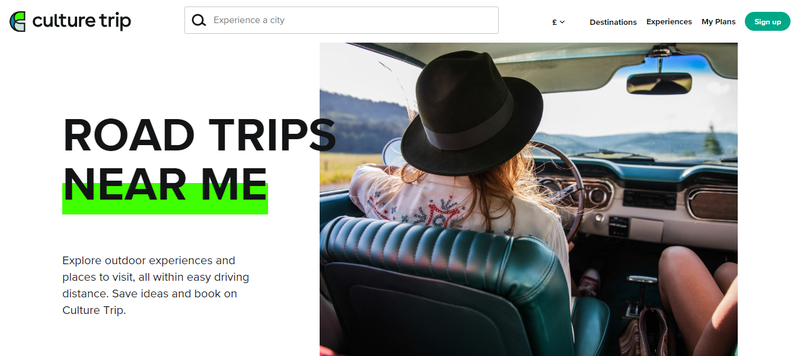 Culture Trip launches Road Trip Near Me tool for holidaymakers staying close to home
Travel and media start-up reacts to changing consumer demand during the COVID-19 pandemic
Travel and media start-up Culture Trip has reacted to increased demand for more local domestic and socially distanced holidays by launching a Road Trip Near Me tool.
The new tool enables users to discover and map out both bookable and free experiences close to home and within driving distance.
The London-based firm says it makes it easy to find local things to do at a time when many consumers seek to make the most of the summer in their own country.
Culture Trip said The Road Trips Near Me launch comes after it has seen an increase in its UK audience's interest in UK road trips of over 250%.
The tool offers inspiration about things to do and experiences within a radius of 50, 100 and 150 miles of their location.
Dr Kris Naudts, founder and chief executive of Culture Trip, said: "Throughout the past months, we have been fast to adjust to changing user behaviours, using our data insights to continually evolve our offering per our audience's interests.
"With certain travel restrictions still in place it is no surprise that our data shows that people are keen to explore what is close to them and road trips are something that our audience – a majority being Millennials and Gen Z – are particularly interested in.
"That's why we have launched 'Road Trips Near Me' to help them discover their own backyard and find the most exciting things to do including outdoor experiences that can be booked with us."
Culture Trip, was founded in 2011 but has grown rapidly in recent years, has been focussing on virtual and outdoor experiences during the pandemic.
It said this includes online cooking classes featuring local culinary talent from around the world in response to traffic data showing that users have had a real appetite for foodie articles during lockdown.
The firm has also curated its online experiences based on world events, most recently adding a Black Representation in Art Virtual Tour.
"As travel restrictions have slowly been lifted, Culture Trip also introduced a range of curated, unique outdoor experiences that can be booked online to inspire and help people rediscover what is special in their own backyard and enjoy the outdoors once again," the firm said.