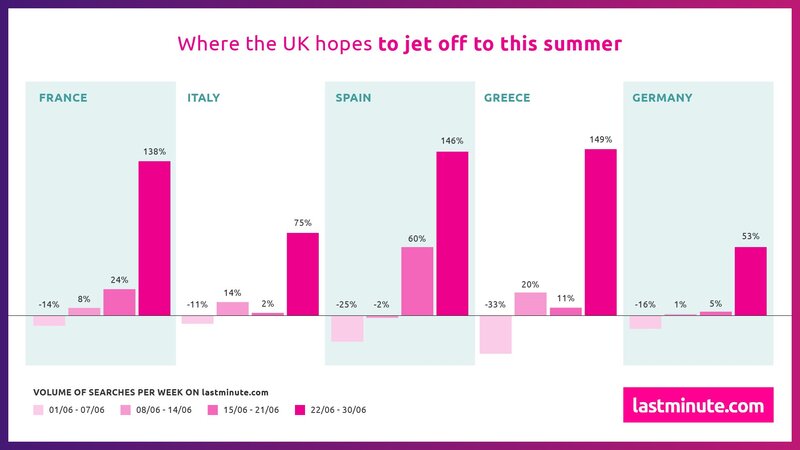 Coronavirus: Lastminute.com reports spike ahead of lifting of UK travel quarantine
Bookings levels with OTA just 4% down in June on same month last year
OTA lastminute.com has reported a spike in searches and bookings ahead of the UK's lifting of its two-week quarantine rules.
The firm claims that bookings in the UK for June are just 4% down on the same moth last year, a remarkable turnaround after bookings collapsed from March.
Lastminute.com says it has seen up to a 150% rise in searches for Spain and Greece ahead of the much-anticipated lifting of quarantine.
The online travel reported an "enormous uptick" in international holiday searches from more adventurous travellers throughout June, peaking in the past week.
Spain and Greece experienced a 146% and 149% rise between the first and final weeks of June, with France and Italy experiencing a 138% and 75% rise, respectively.
The OTA also said the UK is also set to enjoy a boost in local tourism with Brits opting to take "staycations" instead of overseas trips.
Managing director Andrea Bertoi said: "With social distancing measures in the UK relaxing, we're seeing more activity in the city break category at home which could make up the shortfall of international tourists – especially in cities like London and Edinburgh who usually host millions of overseas visitors per annum.
"But our search data shows that international sun and beach holidays remain popular – so, as soon as the go-ahead is given, we can expect lookers to turn to bookers, as people head back to the likes of Majorca, Benidorm and the Costa Del Sol for their traditional summer breaks."
Lastminute.com also reported bookings for January and February are seeing a bigger share than normally expected for June, suggesting some customers are choosing to suspend, rather than cancel, summer holidays.
Group chief executive Marco Corradino, said: ''Europe usually generates £300 billion a year from international tourism, so the ban on international travel has come as a huge blow to their economies, as well as our own.
"So to see such a huge rise in bookings in the past week is fantastic, as an influx of tourists from July will bring with it a much needed cash injection, and also help to ensure the long term survival of holiday resorts across the continent. "