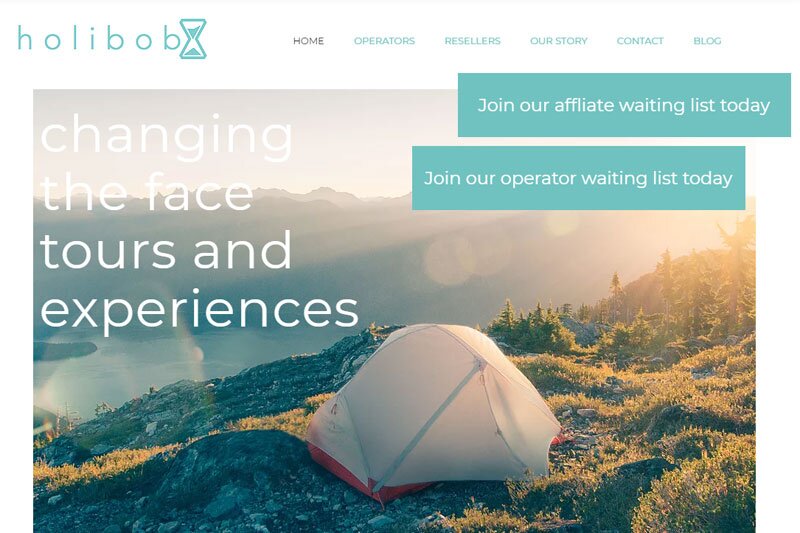 Start-up Holibob sets sights on being Booking.com of experiences
Touring and activities is 'last remaining sector for hyper growth'
Travel start-up entrepreneurs and university chums Craig Everett and Angus Hardy are nothing if not ambitious.
With their new Holibob brand they are setting out to do for the much talked about tours and activities sector what OTA giant Booking.com did for hotels.
Famously fragmented, but also tipped as travel's last remaining sector for hyper growth, tours and activities' estimated annual worth is $180 billion globally.
Although doubts remain about the true worth of a such a high volume low margin product that for holidaymakers is often an impulse in-trip purchase it is an area attracting the attention of big hitters like Expedia, booking.com and Airbnb.
And in Europe with Get Your Guide and Asia with Hong Kong-based Klook it's a sector that's also attracting considerable investment.
Holibob aims to supply through API connectivity fully bookable, health and safety checked and quality controlled, and commissionable experiences to its B2B retail partners including agents, OTAs, airlines and cruise operators via a white label or widget on their websites.
The firm currently has 10,000 individual directly contracted products available and says by the end of next year it will have grown this to "hundreds of thousands".
Chief operating officer Everett said: "We aggregate directly from source connecting the booking software of the suppliers. We don't use Get Your Guide or Viator, which makes us a full service aggregator. We do health and safety, quality assurance, and we deliver content, pricing and availability all through an API.
"We provide OTAs and other partners with an ecommerce platform selling opportunity for ancillary revenue opportunities in the fastest growing area of travel connecting a disparate market to independent sellers. We want to do in tours and activities what booking.com did in hotels."
Hardy, Holibob chief executive, said there is a gap in the market for a company like Holibob to establish itself as the API aggregator for tours and activities. "Right now no one else is doing this.
It's not easy to do because it is a bit of a pain point in the industry, but we see ourselves as doing it in this space."
The Holibob technology was built in just six months off the back of another venture in the winter sports sector that Everett and Hardy set up while at university. A B-C pilot study saw 35 suppliers that did not have booking systems given third party software to bring their experiences online.
Hardy said: "There is lots of software for tours and experiences that provides booking capabilities like Bokun and Treksoft and all these companies are doing massive fundraising. We felt what would be better is If we work with these non-digitised suppliers and we could be the middleware for them.
"In four years' there's going to be lots of this software all with different types of API and if you are a big travel business you need to connect an API into everyone of these. We will sit between and wrap up that whole market and make it accessible to retailers."
As well as live pricing and availability, Holibob will provide rich content like images and descriptions so retailers can properly promote the experiences to their audiences.
Everett said: "The crucial element of going B-B is we do not need to have a large and costly marketing team. All our resources are in establishing supply."
Alongside the founders Holibob is run by an experienced team including Nathan Adams, chief commercial officer, formerly of booking.com and dnata, chief technology officer Graham Bryce, who has 20 years' experience building enterprise software at the likes of JP Morgan, and commercial and marketing director Philip Denman.
To date the firm has been funded by the profits from the co-founders' ski business but they are in the process of completing a pre-seed funding round for £150,00 with £1 million already being targeted for the next round that could happen "within months", depending on revenues. Holibob is on track to be profitable "pretty soon", said Hardy.
Everett said the recent demise of Thomas Cook underlined not only how brands need to find new sources of incremental revenue but also must digitise and innovate to stay ahead.
"This is incremental revenue. It's not cannibalising your current offering, it's an add-on. Look at Tui, it's strongest assets are around it's destination experiences. You have to innovate, you have to stay ahead, just look at Thomas Cook.
"This is a complicated technology solution. It requires a sophisticated mapping process which no one has yet been able to hack. There's also this mentality in tours and experiences tech that you can replicate Skyscanner or booking.com but tours are not a binary as that, it's not as fixed.
"That's why we think high quality content and quality assurance is essential to make this effective and to really aggregate this market. That's why a solely B2B proposition allows us to do that. It means we can aggregate and resell tours and experiences through our platform."
Hardy added: "It seems this tours and experiences problem is the most difficult to solve in travel and has the lowest margins and so has been the last thing to be addressed. But you are seeing it start to emerge with Get Your Guide and Klook.
We think there is space for us in the mix to be that B2B aggregator in the middle."