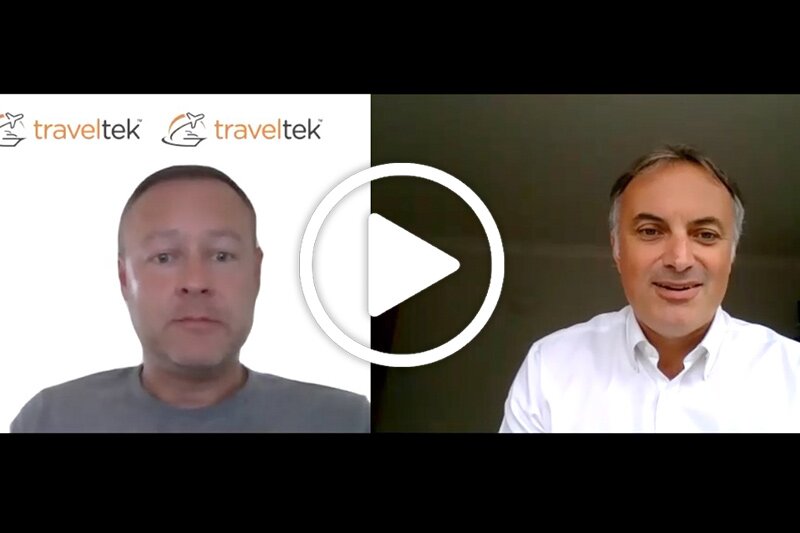 Webcast: Backing from investors will support Traveltek through COVID-19 downturn
Tech firm's boss Mal Barritt delighted with backing from owners and customers
Travel technology developer Traveltek says it has financing in place to see it through up to two years regardless of how long the sector takes to recover from COVID-19.
Mal Barritt, chief executive of the Glasgow-based software specialist, said the firm reacted quickly to the pandemic shut down of travel to reduce its costs while maintaining services to clients.
Speaking in the latest Travolution webcast, Barritt said the private equity-backed firm has been able to put a case to its investors to create a "fighting fund" to see it through the crisis.
Describing the early days of the lockdown, he said it was all about survival mode and scenario planning in what was a chaotic situation as the pandemic impact unfolded.
"We very much went into a cycle of how do we get ourselves through this, a lot of scenario planning…and we took a short-term view on what the next 12 weeks looks like, rather than the next six, nine, or 12 months because who knew what was going to happen that far out.
"Information was just coming in day by day and you were having to react to what you were seeing on the news and what you were hearing in the industry, and of course the whole situation was just so chaotic it was difficult to try and piece together some assumptions.
"But we went into this from a perspective of preserving cash, controlling costs, and how we then ensure that we've got a fighting fund to take us through this.
"We're a private equity backed business so we put a case to our investors and we managed to get an approval for putting extra funds into the business. That was one lever we pulled on to ensure that we had enough cash reserves to see us through the downturn.
"We're now in a position where I'm pleased to say that Traveltek has cash reserves see it through the next year to 24 months, regardless of a downstream second wave or a very, very slow recovery."
In 2016 Traveltek, which supplies its iSell retail platform to many leading travel firms in the UK and globally and has established a strong position in the cruise sector, secured investment from private equity firm YFM.
Barritt said Traveltek has been able to some advantage of the UK government's furlough scheme but realised it needed to retain enough staff to work on demand from clients for things like automated refunds technology.
It has also built a new domestic holidays search tool for clients as they look to switch focus while overseas travel remains restricted.
"We took advantage of some of the furloughing opportunity but, like our customers, it benefitted us to a degree," he said.
"Unlike other businesses, say a manufacturing plant, where things have to stop and you could furlough everybody, we couldn't do that because we still have to keep the platform running.
"We've got to keep the maintenance team in place, the support team in place, the account management team in place.
"Our absolute priority was to make sure that we were supporting our customers to the best of our ability while they're going through all this chaotic change in their world."
Barritt said it was a "difficult balance" ensuring Traveltek's future while looking after clients, but he said its customer had been very supportive.
"When you're running a travel business, and I have run many myself, the first thing you look at is where are the cost lines you can throttle back on.
"Marketing is one, and capex IT spend is another, and there are strategic projects that you just think we'll put that on hold for now because we're in survival mode, we just want to get through this.
"We've seen a lot of capital expenditure being reduced. And then in addition to that customers are asking us for flexible commercial arrangements.
"So, we've put a real focus on being as flexible and as supportive as we can because we recognise how tough it is for them.
"And to be fair to all of our customers when it comes the one income stream that we're relying on, which is what they pay monthly for contracted services, they have been absolutely amazing.
"They've recognised we are a small business and need to be paid monthly and they need the system, and they've been very, very supportive.
"I can't speak highly enough of how our customers have engaged with us during this period of time.
"It's a real sign of the strength of the travel industry, in the relationships, when you're in these situations and people step up and I can't fault any of our customers.
"So we've tried to put that back in from our point of view and invest back into them and do things on a lower cost basis than we ordinarily would, so it's kind of worked well for both parties."