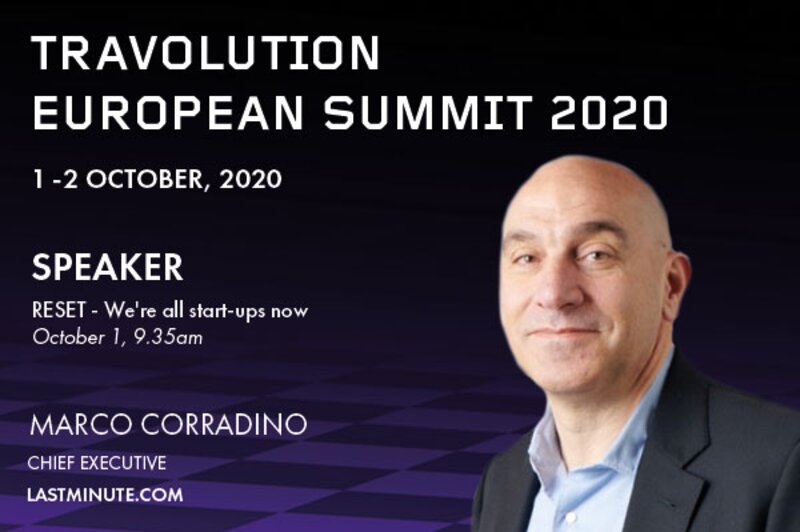 Travo Summit 2020: Lastminute boss's vision for the future inspired by REM and Amazon
Marco Corradino told the event that self-serve, frictionless experiences are what travel must develop
REM's Automatic for the People Lastminute.com and Amazon's approach to customer service are inspiring lastminute.com's planning for the post-COVID era.
Marco Corradino, chief executive of lastminute Group, told the Travolution Summit that enabling self-service is a key pillar of the firm's vision.
And he said Amazon is his persona benchmark to just the firm's success in delivering on a three-year recovery plan driven by technology.
"We call it the automatic for the people because that was a very good LP from REM and when I was younger," he said.
"We have to enter an era in the travel industry where people have to self-serve whatever they want.
"My benchmark is Amazon. Everybody buys on Amazon and 99% of Amazon customers never call Amazon for anything because you can do everything online.
"And they have the physical delivery, that is much more difficult than what we do [in travel]. I think that travel is to industry has to arrive there.
"The issue is that Amazon can manage the delivery and the warehouse for themselves. Where we have a lot of interconnection with GDSs, with airlines, with suppliers is where the problem.
"How do we manage this kind of connection to manage this kind of information. But, ten, 15 years ago you web services, XML was something new in the business, now there are much more stability.
---
---
"Now, we have a lot of stuff that we can do and that is what I think will emerge, a travel industry, in which we have…customer satisfaction levels higher than what we had in the past.
"And, if we want to look a little bit longer than that, that gives us the possibility to upsell and cross sell much more when people are on the move, or in destination,
"You can really continue to feed the kind of information in a personnel and personalised way. That is the value of this investment."
Asked if he feared that emulating Amazon will show the way for how the retail giant might have another go at breaking into the sector, Corradino said he did not see that happening.
He said he expects further transition from offline to online in travel due to COVID-19 meaning that there will be a huge market available for everyone to target.
And he said his bigger concern related to digital marketing with Facebook, Apple and Google, and what the dominant search engine will do in travel.
"I'm much more worried about digital marketing because it will be very difficult to put in place a strategy like in the past because regulations, particularly, in Europe are changing about cookies and GDPR.
"Google is becoming much more focussed on the sector. That is what worries me the most."
In the future brands will compete much more for a loyal customers based experience and the ease with which they allow customer to deal with them, said Corradino.
"The real loyalty in the customer in travel, in my view, is about the product that you have and about frictionless product because people want to book and with less friction than in the past.
"This is what we are trying to do with dynamic packaging with our self-service platform for flights.
"We want to create a sort of loyalty to something that is very easy to book. That is what we can do, and that will be the trend in the industry.
"On the marketing side, we have three business units in the company: the OTA, the meta business and the media business.
"We are working on putting together the meta and the OTA in a more clever way because we have a lot of different competencies there that we can use much better.
"That is the digital marketing tactics that we want to use for the future."