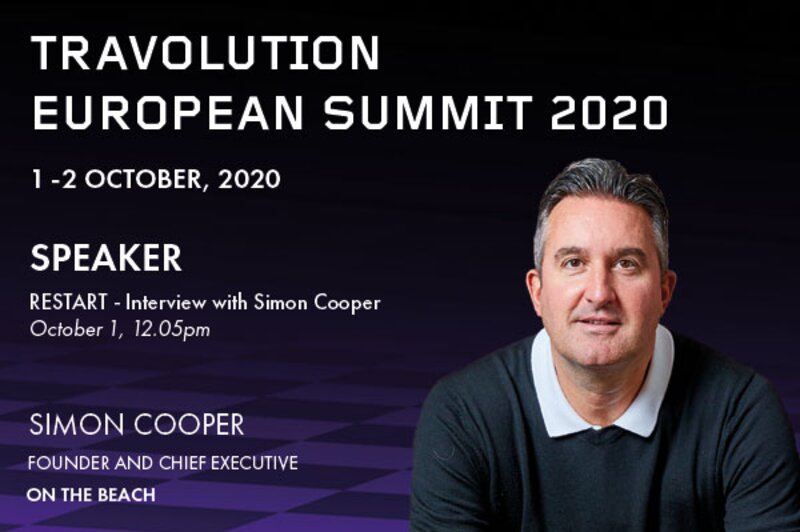 Travo Summit 2020: 'Grace' period for refunds is over, says On The Beach boss
Simon Cooper calls for increased powers for regulators to impose existing refund rules
A period of 'grace' that customers gave travel brands over refunds as the COVID-19 pandemic hit is now over, according to the boss of leading OTA On The Beach.
Simon Cooper, speaking at last week's Travolution Summit, said the firm has managed over £200 million worth of refunds since the start of the pandemic.
But with many firms still working to clear a backlog, particularly some airlines, he believes greater powers for regulators to impose rules on refunds are required.
However, even if those powers are not granted, COVID-19 could spell the end of using customer money as cashflow as merchant acquirers and suppliers tighten terms.
"Our expectation going into this, probably like most people's, was that the laws that existed to protect consumers would be enforced.
"By those laws, I'm talking about EU261 or the Package Travel Directive. That gives us seven days to get the monies back out to the customer and maintain our good reputation.
"Obviously, that hasn't been the case, not surprisingly, because we were entering an unknown realm back in March April time. Who knew how long this was going to last
"Very few companies could have afforded at that point in time, without putting further financing in place to cope with a 12 month prolonged crisis, to refund everyone with no revenues coming in.
"I think that we managed that. I think consumers gave everyone in travel a level of grace, up front accepting it wasn't a normal time and, of course, we were having to adapt to working from home as well which is inevitably less efficient.
"So people gave some grace. But I think that grace that was given is now gone, finished. Any goodwill that existed has now evaporated."
Cooper said some airlines have started to speed up their refunds, others have not, but that because On The Beach operates a trust account it was not reliant on receiving airline money back.
However he said: "I quite like the way my general counsel describes travel as a pyramid with the larger companies sit at the top.
"And if money is don't flow from the top, then the whole thing just doesn't work. The regulators have suffered, by their own admission, as a result of a lack of kind of powers that that are immediately accessible to them.
"So I think that there is a call for increased powers and one would hope that would come. And I think that there'll be a level of restructuring.
"Given the exposure to the merchant acquires, if it doesn't come from legislation then it will come from the merchant acquirers anyway because they cannot afford the risk of a massive travel company failure. The billions of pounds outflow would take them down.
"One way or another, regardless of whether it's a tightening of merchant terms, regulation or tightening of supplier terms, the whole thing will crunch up so it's no longer possible to  use customer pre-payment as a six month working capital kind of banquet."
Cooper was asked about claims from lowcost carrier Ryanair that OTAs, including On The Beach which it named alongside lastminute.com, Love Holidays and Opodo, who were holding up refunds.
"Anyone can say whatever they want to say to put a PR spin on this for themselves," said.
"If anyone was actually looking at the data behind this, then inevitably we would come out looking better than most others.
"It has been in the interests of some in the space to create levels of confusion about their own misbehaviour. That's as much as I'm prepared to say about that."
With such uncertainty about travel this summer Cooper said On The Beach had had a "conceptual discussion" about refusing bookings to "take that option off the table".
"Is there any point taking bookings that are going to get cancelled because inevitably there is pressure on cash flow and because the need to refund people, particularly in an arena where the suppliers are not necessarily refunding.
"As with most companies within travel, we had done what we needed to do to mitigate our major risks.
"It would be lunacy in that period to be upfronting payments to end resort suppliers because inevitably there wasn't going to be that quick return of money back through into the consumer.
"OTAs, clearly, are born with some good fortune when it when it comes to dealing with significant crises that some others in the industry, aren't.
"We have a low levels of inventory risk or committed fixed cost base versus variable costs, and flexibility of our marketing cost base which flexes down immediately demand drops.
"And in OTB's case there is a lack of leverage, which is fantastic, and a supportive shareholder base and so on.
"But perhaps the key thing when it comes to returning monies to customer is, if you're ring-fencing customer pre-payments they don't form part of your normal working capital, so giving them back is inherently less painful.
"For most businesses in travel it's absolutely commonplace that pretty much all customer monies form part of that working capital opportunity spent on marketing and on investments and so on.
"In our case because we have that ringfenced customer trust account, we don't collect balances for holidays 14 or 12 or 10 or eight weeks out. We don't need to because there's no benefit to us. We collect approximately two weeks ahead of the holiday.
"That brings difficulties where you had the chaos following the reopening of airspace in early July and people didn't know if their hotel was going to be open or. So that short lead-in are made life pretty difficult
"But in terms of returning monies to customers, giving monies back for hotel and transfers was easy, just press a button and it happened within seven days.
"We're in the fortunate position that we don't necessarily have to wait for airline refunds before we refund customers, we have the cash. However, that is not an across the board rule."