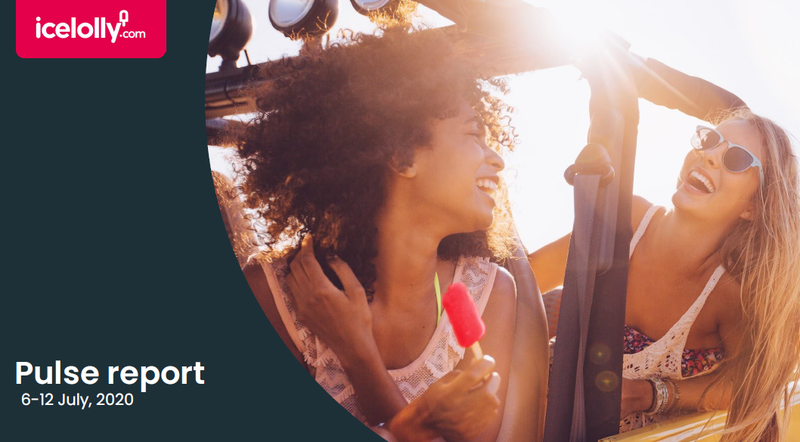 Summer 2020 searches and bookings continue to dominate icelolly.com Pulse tracker
Bookings for summer now at 63% of total, up from just 10% in the first week of June
The scale of the travel bounceback for this summer over the last month has been underlined by the latest search and booking data from icelolly.com.
The holiday comparison site's latest weekly Pulse report reports that searches for this summer are at 70% of all searches and bookings at 63%.
This contracts with the picture at the beginning of June, when the prospects of travel this summer remained unclear and summer 2020 bookings were trending at just 10% of the total.
In the last week August 2020 saw the biggest rise in search volumes consolidating its number one position and accounting for a quarter of total searches.
Seven out of ten searches are now for travel up to October 2020, and three quarters for departures between this month and the end of the year.
Icelolly.com's list of the most popular destinations continues to be dominated by Spanish resorts, although Antalya in Turkey, Corfu in Greece and Malta all saw significant increases.
As well as Corfu, other Greek destinations including Kos, Santorini, Crete and Zante all saw double digit week-on-week search volume increases.
Outside of the top ten cities also saw notable upticks in popularity with Amsterdam, Rome and Prague all seeing increases in double figures.
Icelolly.com's tracker has also seen a trend towards shorter duration holidays, with seven night by some distance the most popular.
However the share of search for seven, 10 and 14 nights all fell in the last week while four nights overtook 14 nights and is now just 0.7% behind ten nights.
Chris Webber, head of travel deal at icelolly.com, said: "S20 travel accounted for 70% of searches and 63% of bookings.
"Go back to the first week of June and only 10% of bookings were for S20, with 70% for S21. Perhaps in anticipation of July 15 searches for Greece have increased over the past week.
"But with a potential second lockdown there being considered according to latest reports, it's whether these will solidify into bookings.
"A good example of the kind of thing we could see across other destinations as we move through this period."