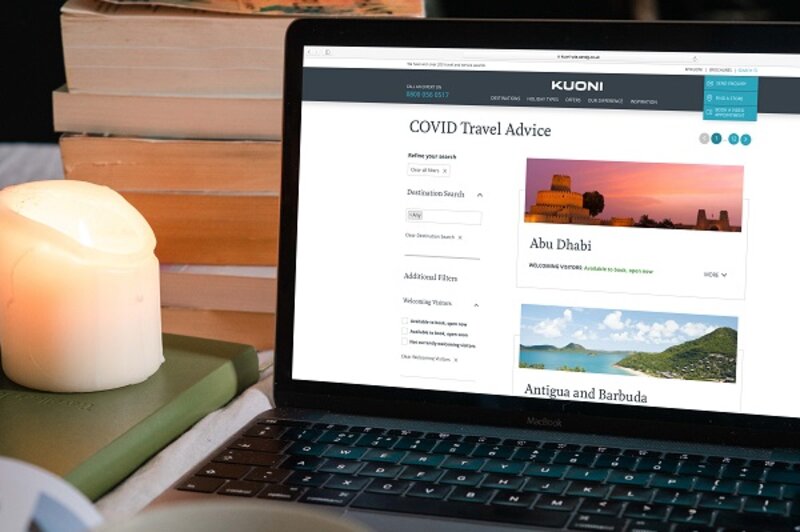 Online 'one-stop' travel advice hub launched by operator Kuoni
Firm claims facility is 'definitive guide to travel corridors, quarantine and testing'
Kuoni has launched a 'one-stop advice hub' detailing requirements and restrictions that are in place for travel.
The company's Covid Travel Advice Hubis available online for anyone to use, designed with the view of making it easier for viewers to plan holidays for the year ahead.
Kuoni calls the hub "the definitive guide to travel corridors, quarantine and testing".
It shows which destinations are welcoming visitors, travel corridor information, current Foreign Office (FCDO) advice, Covid testing requirements and quarantine rules on entering a country or returning to the UK.
Kuoni said it will continually update the advice as restrictions are eased and holidays become possible again after the current travel ban.
The firm reported "plenty of people desperate to plan a holiday" from its early January indications.
Chief executive Derek Jones said: "This is about making an increasingly complex situation simple to understand, providing answers to questions we know people are asking in a clear, searchable online format that anyone can access.
"The hub is available to everyone, free of charge – we're providing this service because we want to play our part in opening up the world again. Travel agents are welcome to use the resource to help them to provide the most up to date advice and guidance for their customers."
Jones added: "During the pandemic we've seen two types of travellers emerge. There are those who want to get away quickly, who will go at short notice as soon as borders are open and the necessary Covid tests are in place. These customers want to know what's possible now and the travel advice hub will be a valuable tool for these last minute bookers.
"Alongside that we have customers planning holidays a long way in advance so again this is a really useful way to simply search for what's bookable now for travel later.
"We've spent the last few months designing this one stop shop for all Covid related travel advice. The information within the Travel Advice Hub will be updated daily. Customers and agents will no longer need to go off to different websites to try and make sense of it all.
"We want to encourage people to travel again but complexity around travel will continue for some time, so it's essential that we give people the information they need and the confidence to travel safely and smoothly. That way we can get travel up and running again this year and help people have a much-needed break and give everyone something to look forward to."