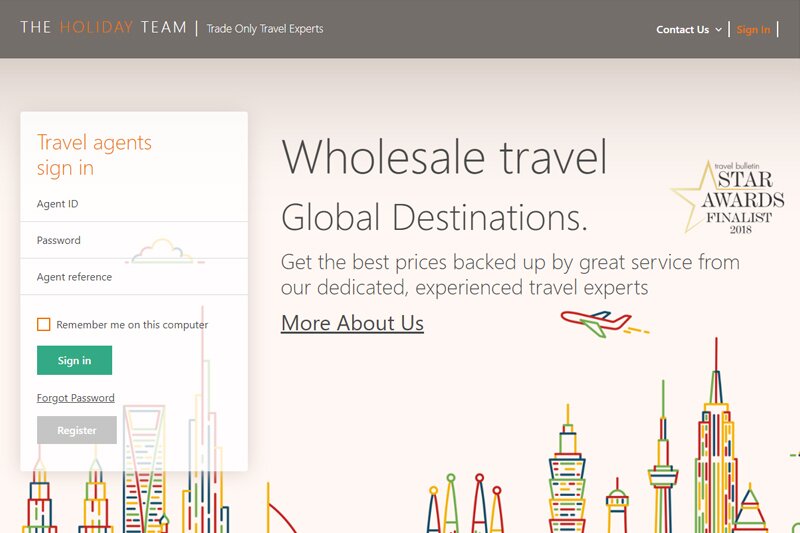 New The Holiday Team website 'underlines belief in agents'
Trade supplier The Holiday Team unveiled a new-look website on Wednesday night, saying the move underlines its belief in the value of the travel agent community.
The site has been redesigned to be more user-friendly for agents and more content has been added to help them use it as a sales tool with customers.
It offers separate hotels and flights search tabs but The Holiday Team says it has focused particularly on upgrading the Flight plus Hotel tab for packaging deals.
For agents looking for holiday inspiration for their customers, the new website also offers pages of inspirational ideas and packages, which are regularly updated.
The new website also offers detailed information and advice such as travel health, passport and visa requirements and weather information.
The Holiday Team is the trade division of Southall Travel and a new agency support team of five has been put in place to forge more partnerships and drive growth.
The firm offers 24/7 reservations and sales support and competitive pricing through its airline relations. British Airways and American Airlines sponsored last night's launch event.
Kevin Toby, The Holiday Team head of sales, said: "We are absolutely delighted with the new website and we are sure agents will enjoy the new and improved search and booking experience.
"We believe the new site will make it easier and faster for the travel trade to search and buy a broader range of product, especially hotels in long haul destinations.
"Our aim is to further build trust and credibility among the travel trade and provide them with the product required to delight their customers and grow their business.
"The new look and feel really brings the site up to date. What we wanted is something that was simple and easy to understand.
"The new site allows them to be competitive and to make money. We are providing an opportunity for agents to compete with the big tour operators.
"Flight plus hotel has been seriously enhanced and we have added more content but this is an on-going project and it will continue to develop over time."
Future enhancements could see other product like transfers and ground transportation and tickets and attractions added.
But The Holiday Team said this was a first iteration of the new site and it will continue to add new features based on feedback from its agent users.
Paul Wait, chief operating officer of Southall Travel Group, said: "We really believe in the value the travel agent community provides despite all this talk of everything going online.
"My experience of going around the country and walking into traditional travel agents is they are right in there among their communities and are providing service in a completely different way.
"I have been really encouraged by how much business they are handling and how much people are using other people to fulfill their travel and big ticket items. I was staggered.
"They are focusing on long-haul, luxury and tailor-made, hence that's why we think that there is a massive future for personal travel service in leisure and business travel.
"We see the value of the agent community and we are investing in both people and technology to support the trade and build their businesses."