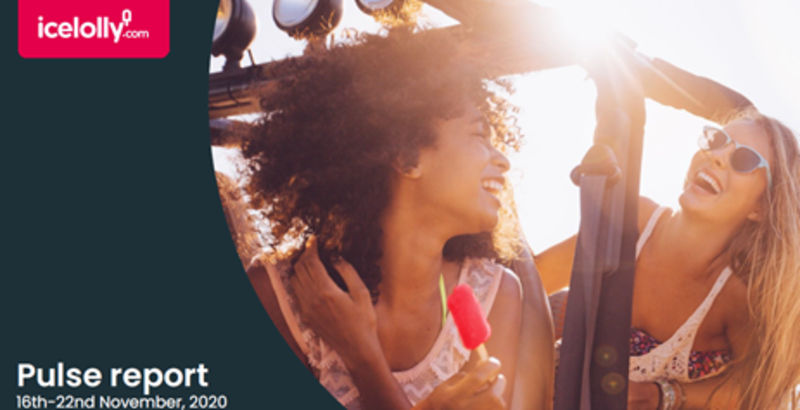 Icelolly.com Pulse: Christmas travel increases in popularity as lockdown comes to an end
Latest weekly insight into search and booking activity on the holiday comparison website
Holiday price comparison website icelolly.com has reported significant interest in travel over Christmas as the UK's second COVID-19 lockdown comes to an end.
The latest Pulse tracker issues by the brand saw December increase its share of search activity by 4.5% leaving it out in front as the most popular month.
The data reflects consumer sentiment before this week's announcement about new COVID tiers and relaxed rules over Christmas , but 40% of searches were for the festive week.
Analysis of search activity for the week to November 22, showed April 2021 had the biggest share increase of 14%, leaving it in seventh place.
Summer 2021 saw a marginal increase in search activity of 0.7%, and represented 46.9% of all searches, while winter 2020/21 saw a decrease of 3.4%.
Chris Webber, head of travel deals at icelolly.com, said: "While searches and bookings remained at the relatively low level we've seen during the second lockdown, the positive news about the Oxford vaccine and the new quarantine system could increase confidence in the coming days leading to more people searching for – and hopefully booking – their next trip.
"The popularity of travel during the Christmas week continued to rise with 40% of searches for December travel – in itself the most popular month searched – falling in the week commencing December 21.
"That's a trend we are keeping a close eye on as we await news on what will be allowed between households domestically during the festive season."
Destination search data showed the Canary Island continued to lose share while Dubai rose from fifth to third pace in the top ten thanks to a 31% increase.
Outside the top ten most popular destinations, Egypt, Crete and the Dominican Republic all registered double-digit growth.
Data on popular durations showed seven-nights staged a recovery after a fall in the previous week and four nights saw an increase, possibly linked to Dubai's popularity, said icelolly.com.