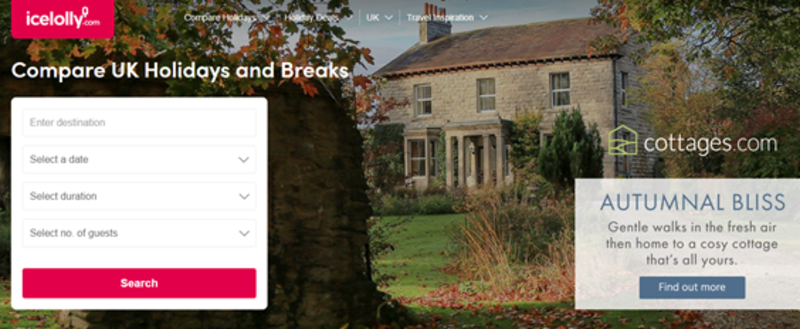 Icelolly.com agrees booking.com accommodation supply integration to boost staycation offer
Holiday metasearch site launched UK platform in July amid staycations boom
Icelolly.com has boosted its portfolio of UK hotels and accommodation having struck a deal with leading OTA booking.com.
The holiday metasearch site says the deal reflects the 'staycation boom' seen over the summer as international travel restrictions left users looking for UK stays.
The addition of thousands of properties to a new UK holidays platform which was launched in July will offer consumers more choice, the Leeds-based travel deals platform said.
Richard Singer, chief executive of icelolly.com, said: "Since we launched in July, engagement with the UK platform has been really encouraging.
"Partnering with Booking.com will give our customers access to the largest accommodation inventory for the UK.
"Whether they are looking for a cottage in the Cotswolds, a hotel in Hartlepool, a B&B in Belfast, a guest house in Glasgow, or the King's Suite in a Castle, they can find it on icelolly.com"
"We have further UK integrations and developments we are working on and are excited to execute our strategy to further expand and diversify our products for our customers and partners".
Through the Booking.com integration, icelolly.com customers can search for places to stay among over 10 different accommodation types.
Customers can also filter by over 20 different property criteria such as swimming pool, adults only, disabled facilities and recently added, Covid19 health and safety measures.
As well as the UK holiday search, icelolly.com is now featuring exclusive, time-limited, UK deals for holiday breaks, 'quirky stays', and days out.
The site is also offering display advertising opportunities which is currently showcasing domestic operator Hoseasons across the site and on homepages.
Icelolly.com said the focus on the UK as a holiday destination has been driven by the results of a recent survey which found 78% of customers expect to take a UK break within the next year.