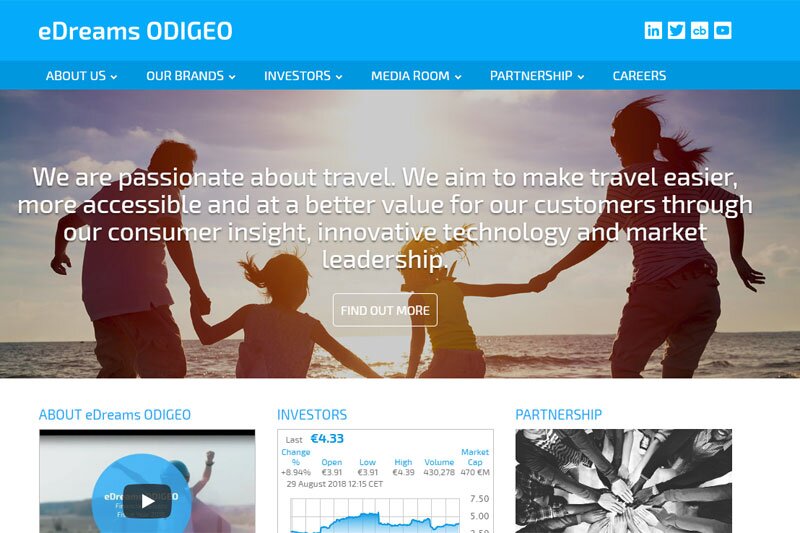 Focus on high quality bookings paying off for eDreams ODIGEO
European OTA group saw earnings drop by 11% to €79.1 million in the first nine months of 2018
European OTA group eDreams ODIGEO saw earnings drop by 11% to €79.1 million in the first nine months of 2018.
Booking levels fell by 3% year-on-year to 8.2 million which the company described as being in line with a "strategic revenue model switch".
The performance reflected a focus on high quality, sustainable business, achieving higher revenue on fewer bookings, the company said.
The revenue margin increased 4% as the firm achieved higher revenues on fewer bookings.
The group raised its full year adjusted earnings [ebitda] guidance to between €118 million and €120 million.
The proportion of mobile bookings rose to 39% from 36% in the third quarter "as the business diversifies its offering for the benefit of customers".
CEO Dana Dunne said, reflecting on the three months to December 31, said:"We have made excellent progress this quarter on a number of fronts for our business.
"As a result, we have raised our adjusted Ebitda guidance for the year and are on track to meet all other full year targets.
"We continue to implement our strategy of enhancing our revenue diversification model, allowing us to deliver sustainable growth over the long term and cement our leading market position."
Looking fiorweard, the company said: "As outlined when the new strategy was unveiled in 2016, we can expect a short-term impact to our financial results.
"However, this revenue model shift will enhance our long-term market position and be value accretive to the company, both for customers and shareholders.
"As previously guided, we expect material improvements in the second half of the fiscal year, as our strategic initiatives start delivering the desired financial results."