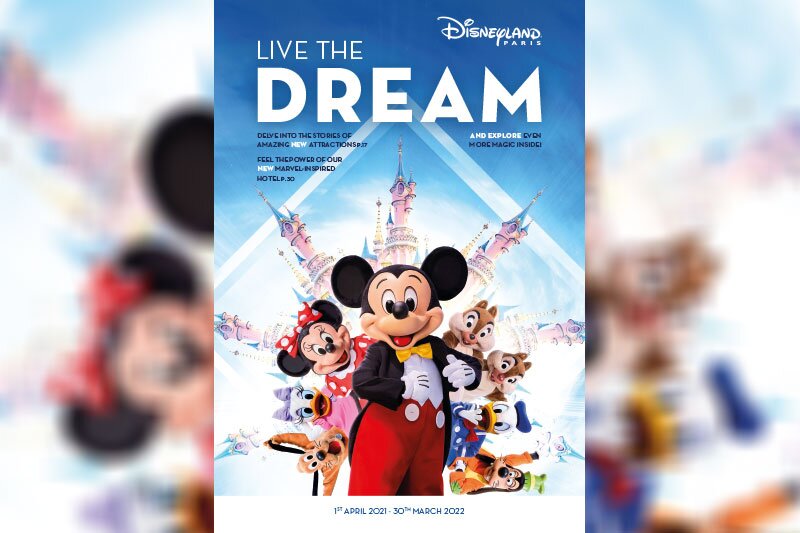 Disneyland Paris replaced hard copy brochure with digital version
Publication aims to 'bring the destination to life' for trade partners
Disneyland Paris has replaced its traditional printed brochure with its first digital interactive brochure for the UK trade to 'bring the destination to life'.
The company has produced e-brochures in the past but this is the first time the programme has offered interactive content, such as 360 degrees videos, interviews, 'magic behind the magic' insider facts and tips, and regularly updated information on its events and attractions so it does not go out of date.
The Live The Dream brochure, offering stays bookable at the Paris resort until March 30, 2022, is being launched to UK agents in place of a paper brochure.
It features interviews with Disney employees, known as 'cast members', and Disney 'imagineers', who design and develop the resort's attractions, top tips from Disney's own experts and specific travel agent content.
The digital format of the magazine-style brochure allows for new Disney experiences and attractions to be added as they are announced to ensure agents always have up-to-date information on the resort.
Extra content for agents includes supporting fact sheets with practical pages on hotels, transport, dining and top tips. These will be regularly updated to ensure they are current. The new digital platform will also provide links to sales and training tools for agents, including videos.
Agents can share information from the digital brochure online with customers to plan their holidays on a smart phone or tablet.
Tracey Silverwood, Disney destinations international director UK & EMEA sales, marketing and transport, said: "We are delighted that Disneyland Paris will introduce a new digital magazine that will allow travel agents to access the most up-to-date information and offer their customers a more personalised approach to create magical holidays at Disneyland Paris."
She added the digital brochure would provide a 'reduced contact' option, in reference to the Covid-19 pandemic, and was part of Disney's ongoing efforts to deliver engaging content and meet agents' needs for the latest product information. She also stressed the trade continued to be an "important part" of Disney's UK business.
Agents can access the new programme and training tools by visiting Disney's agent portal at disneytravelagents.co.uk or via the Disney Stars app and clicking on the Live The Dream brochure on the homepage.