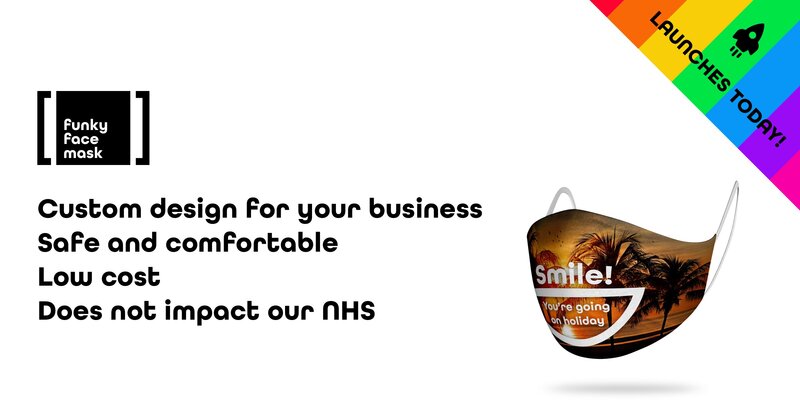 Coronavirus: Make It Social founder launches face masks supplier while stranded in Antigua
Eddie Robb secures investment from industry entrepreneur Steve Endacott
Former chief executive of Make It Social Eddie Robb has launched a new businesses that will supply custom non-surgical face masks to companies.
Funky Face Masks has been backed by travel industry entrepreneur Steve Endacott, former MyTravel tour operations managing director, chief executive of On Holiday group and Holiday Taxis founder.
Robb has been stranded in the Caribbean since the start of the COVIDF-19 lockdown having travelled to Antigua on holiday and yest has still managed to start the new business working remotely.
Robb said: "We want to support brands in the travel and events industries in engaging with their customers in a fun way whilst following government guidelines and best practice.
"The business has been established with a trusted production partner in Thailand and a distribution partner in the UK. We are able to move quickly and efficiently as a result.
"I personally may be stranded in Antigua, but the business very much has a strong UK presence and footprint."
Endacott has recently launched The Rebound Consultancy to help firms survive the COVID-19 crisis with two former MyTravel colleagues, Will Waggot and Seamus Conlon.
Robb, who closed group travel buying venture Make It Social on 2018 after three funding rounds, is targeting the face masks at travel firms, as well as sporting clubs, and other workplaces.
Endacott said the launch of Funky Face Mask was "a good example of what you can still achieve in travel during the lockdown".
He said he believed face masks will become "the new scarfs".
The firm is offering face masks at low cost, customised to clients' brands and says they are safe and secure while not directing scarce protective equipment from NHS and care workers.
It said: "Our face masks are designed specifically for personal use. As they are not surgical masks you can order from Funky Face Mask with peace of mind that you're not taking equipment that could be used by our key workers."