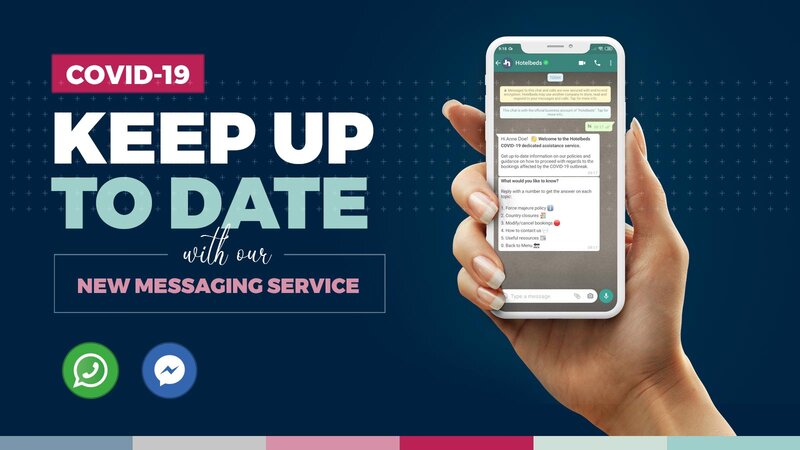 Coronavirus: Hotelbeds provides COVID-19 updates on WhatsApp and Facebook Messenger
Service complements coronavirus response website launched last month
Leading B2B accommodation supplier Hotelbeds has started providing operational updates on COVID-19 issues on WhatsApp and Facebook Messenger.
The automated service has been developed alongside the firm's COVID-19 response website which it launched in the middle of last month.
Users can access an interactive menu offering automated responses to latest updates including force majeure details and destination closure guidance.
Carlos Muñoz, managing director of Hotelbeds, said: "Up-to-the minute operational updates on COVID-19 are essential to both our clients and hotel partners during these challenging times.
"We quickly developed our COVID-19 dedicated website resource for partners but were keen to go further by allowing people to also access information via convenient channels like WhatsApp and Facebook Messenger – I´d like to thank the team for developing this in record time.
"To all our clients and hotel partners out there I´d just like to say that we recognise that these are very tough times.
"But we want you to know that we will be with you all the way, right now and then when you and your customers and guests are ready to go again.
"Over the coming weeks and months we´ll be announcing further actions we´ll taking to fulfil this promise."
Information available via the WhatsApp and Facebook Messenger services include:
Details of the global force majeure that Hotelbeds has put in place for all bookings worldwide (with some exceptions) until April 30;
Lists of destinations that have been closed by local governments, along details of how pre-existing bookings for those markets are being proactively cancelled;
Information on how to cancel and modify bookings via the Hotelbeds website;
Reference copies of official update emails sent to partners over the last few weeks;
Plus Q&As to answer the most common questions asked by partners.
By subscribing to the services Hotelbeds partners can ask questions via an interactive menu with automated responses, request responses from the operations teams, and subscribe for further updates.