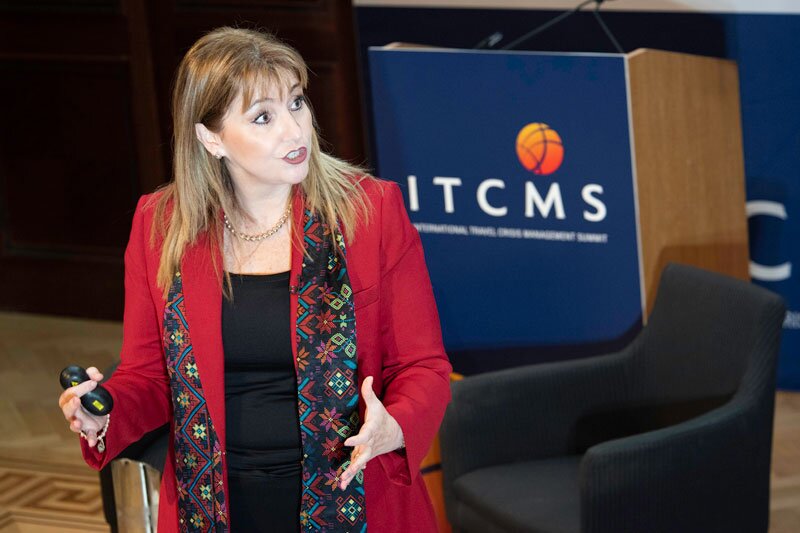 ITCMS 2018: Biometric identity essential for tourism growth, says WTTC
Countries that want to take advantage of projected growth in tourism will have to embrace new biometric identity technologies to be able to cope with the numbers.
A panel of experts on how use of data is transforming travel told the International Travel Crisis Management Summit in London last week that collaboration on traveller identity will be vital in the future.
Gloria Guevara, president and chief executive of the World Travel and Tourism Council, said:
"If countries want to create jobs in our sector and capitalise on the opportunity of the growth Iata and the UNWTO are forecasting they need to change. If they do not change the system is going to collapse."
Guevara noted the only aspect of travel data today not digital is identity. She said the move towards digital identity may be painful for some, as was the move to e-ticketing among the airlines but that it will become something we won't think about.
"There is a lot of interest from a lot of smaller countries that want to embrace the technology, they are just asking us how. We need to get together, come up with some harmonised approach because these countries are waiting for the sector to be aligned. If we are aligned they will be able to move faster.
"If they are not part of this it's like telling a country it is not going to be able to have access to phones because it does not have the network to support that. My conversations with governments are always about how they can help, how can they get on board."
Isabel Hill, director national travel and tourism office at the US Department of Commerce, said the US Department of Homeland Security and Border Protection has been testing biometric entry and exit technology and has had "tremendous success".
She said it has facilitated travel while also increasing security with imposters already identified that would not otherwise have been picked up. The technology has been found to be capable of boarding a 400-passenger jet in 22 minutes. Facial recognition technology has been able to achieve a 97% success rate.
"Our vision is seamless travel from the time you book to the time you come into the screening process to boarding the plane," said Hill.
She added the back-end technology was being offered to private sector companies so hotels could use it for checking in guests. "It goes to show progress is made only when the public and private sectors work together," Hill said.
Matthew Finn, managing director of technology specialist Augmentiq, said biometric data is already transforming travel but there remain challenges associated with where it can be used to improve the travel experience while enhancing security.
"Data is a very quick and easy way of automating quite a lot of labour intensive processes," said Finn who added this would allow officials on the frontline to spend their time targeting individuals.
However he said there needs to be more collaboration. "A lot of people talk about it but not enough people do it. It means sitting down and really understanding other stakeholder's challenges. Privacy is clearly a very important concern, so is political will and appetite.
The technology is there, it's not science fiction. It's well proven, well tested, mature technology. We need to get better at proactive analysis, better at targeting, better at risk management, better at focussing resources at what is a risk."
Ian Slater, senior Vice President enterprise partnerships at Mastercard, said as sectors grow its a "natural process" that they create silos which results in "friction and problems".
"Look at the sheer number of entities involved in any trip and that creates friction," Slater said. Mastercard's work in London with London Underground with touch and pay technology has resulted in savings for the public transport operator of £100 million.
Slater added there needs to be a framework or standard set of rules for global interoperability.
Finn said: "Technology is a really important part but it all needs to be underpinned by frameworks and processes for everyone. They are quite a lot of devils in the details. I'm a massive advocate of standards."
Guevara said: "The jet here is how we have this harmonisation and approach to standards that connects all the different players."