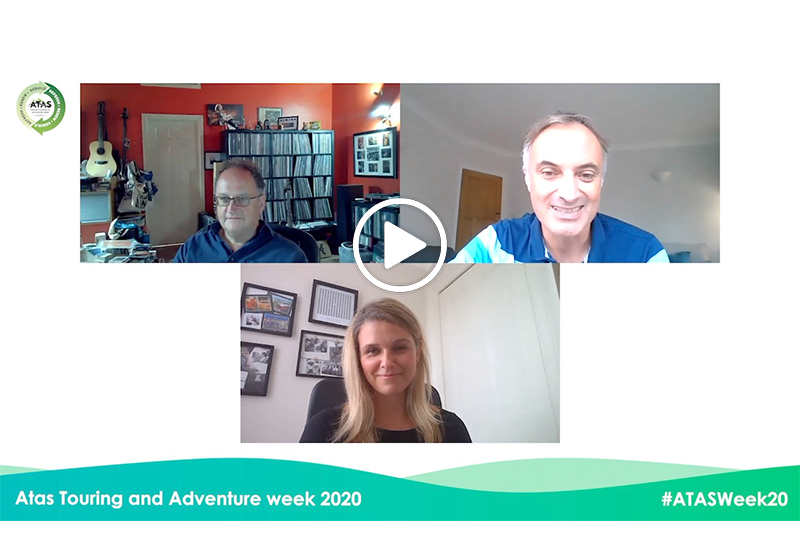 ATAS Virtual Touring and Adventure Week: Traveltek and Kaptio talk travel tech trends
Catch up on the Travolution session for the specialist trade association in the touring and adventure sector
Depleted in-house technology teams are going to make it challenging for travel firms to innovate and embrace more flexible IT, a session for the ATAS virtual Touring and Adventure Week was told.
The Travolution session for the specialist trade body saw technology suppliers Traveltek and Kaptio discuss emerging trends in travel technology due to the impact of the COVID-19 pandemic.
Greater automation, move to cloud-based software-as-a-service systems, improved integration and interoperability of software and more reliance on third party providers were all see as key trends.
Jon Pickles, chief operating officer at Icelandic travel software developer Kaptio, said many firms had to furlough IT teams in March and they are unlikely to return to pre-COVID levels.
He said this initial period saw a focus on survival and bringing in system to enable staff to work from home, but that now travel firms are starting to look at what their future requirements are.
"It's certainly going to make the [firms in the] industry think about their ability to suddenly get in and implement a new system," Pickles said.
"This is a challenge, but what we're seeing now is people slowly starting to come back from furlough and starting to look, so we're getting a lot of interest at the moment.
"There are RFPs [Request For Proposals] going out from travel companies looking for new systems in the light of the pandemic and what the new normal is going to look like."
Pickles added: "You're shifting from buying hardware and servers to a cloud-based solution where you pay a monthly fee per user which can appear quite expensive.
"But you can look at it as what it costs to go for a Starbucks every day is the price you're paying for access to the software, so you can look at it differently,
"It's a big project to move your entire business to SaaS. We have some customers with 16 different systems and we're trying to get that into one system.
"But it's not impossible and I think that's certainly something travel companies need to look at moving forward."
Cressida Sergeant, chief commercial officer at Traveltek, said COVID-19 is going to have an impact on firms' ability to build, develop and manager their own technologies.
"Moving in more of this SaaS direction where you let somebody else do that level of testing for you is maybe a trend that we're going to see
"Based on some of the conversations I've had over the last six months business don't understand yet they're not going to be able to operate and innovate with 50% of the tech team.
"So I do think you're going to see a change over the next six to 12 months with a lot of companies realising that they don't have the bandwidth within those teams to be able to take on the tech innovation they're going to need."
Sergeant said firms will have to look at automating regular routine tasks so they can divert resources to more customer-facing tasks.
And she said ATAS operators that work with agent partners will look to enhance their B2B technology to bring it more on a par with what is prevalent in the B-C travel sector.
"When I joined Traveltek two years ago one of the observations I had having had a look at some of the B2B tools on the market is that they've not moved on as quickly as on the B2C side.
"It tends to be B2C is the sexy or the more whizzy side of the business where we've seen a lot more innovation and it hasn't happened in B2B.
"Those changes will come and it's something that we've been working on because I do believe that B2B should probably mirror some of the experiences that you get on B2C websites,
"That's been a driver for me and something that I'm very passionate about. What I would love to see is we give the agents the ability to showcase their products…enabling them to sell to their consumers in an easier way.
"And I think, historically, we've fallen short as a B2B industry of actually making that as easy as we can."
Speakers agreed that the most important thing for travel firms in the future will be the ability to operate more flexibly and react quickly to changing circumstances in the market.
Pickles said the ability to scale up and down rapidly is vital. "When you look at the industry as it is now you need that option because that's the overhead that you have every day of the week.
"Let's say a company needs to expand…you can just add licences create a new business unit and you're up and running, there's no physical hardware to spin up other than a laptop and a browser.
"Everything's going to change. It will take time, but that's what it gives you, that flexibility and it's all about flexibility at the moment."
Sergeant said while many people have become accustomed to using digital during lockdown travel companies will need to offer their customer choice.
"Agents are going to change. People are going to want that human element, but what the last six months have shown us is that we probably can sell over Zoom and we can do virtual meetings.
"You'll have more touchless journeys where you won't need to necessarily sit in front of that client, so things will definitely change on the back of this,
"But I still maintain that people will also still want to go and have that face-to-face contact as well so it's going to be really important that we give customers the choice.
"Coming out of COVID some people are going to feel comfortable going into shops and they're going to want that human approach.
"Other people are going to feel more comfortable doing it over Zoom or Google Meet so we need to be open, to be flexible, moving forward and embracing all of the different technologies."