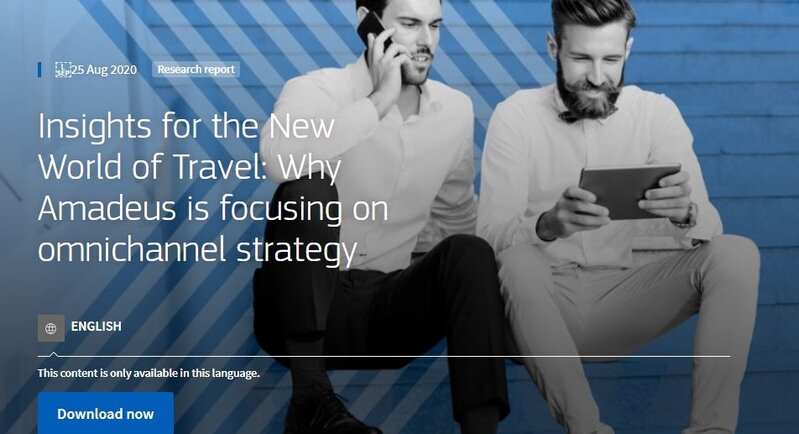 Amadeus urges increased investment in 'omnichannel' as customer demand rises
New report finds only 20% of travel agencies are planning investment in next five years
Only a fifth of travel agencies plan to invest in technologies that support omnichannel retailing despite the COVID-19 pandemic making this more essential, according Amadues.
The European travel technology giant has produced a latest report – Omnichannel, a source of differentiation in the new reality – looking at the challenges facing travel firms.
A survey of travel agencies found just 20% plan to invest in omnichannel in the next five years. Firms in north America were below the average on 14% and in Asia and Africa even lower on 7% and 6% respectively.
A survey of travellers for the report found they are looking for an 'omnichannel' experience covering human contact, phone and alternative digital communication channels.
In a blog post for Amadeus, Jorge Elliott, the firm's executive vice president for travel content, travel channels, said:
"In the evolving new world of travel, especially in a COVID-19 world, travellers will be even more demanding than ever before.
"Safety, health and hygiene issues will be critical at every stage of their journey. Travelers will expect consistent information, in real-time, at their fingertips regardless of the channel they use.
"An omnichannel strategy that allows travel brands to respond to the ultra-connected landscape and the evolving customer needs is a must."
Elliott claims the research has found a disconnect between what travellers say they want and what firms believe they want when it comes to multi-channel communication and specifically new channels like WhatsApp.
He said: "While only 10% of travel agencies believe these communication channels are a top need, 43% of travelers rate it as very important.
"It goes without saying that rather than follow their own operational structures, travel sellers increasingly need to understand the range of customer communication needs and the emerging importance of offering multiple communication channels."
Amadeus believes that disruptions in travel, like we have seen during the coronavirus pandemic make multi-channel communications as part of an omnichannel approach even more vital.
"We realize how crucial it is for travel sellers to be able to help travellers manage any disruption where the smallest change in one element of an itinerary can trigger a whole set of changes affecting many different parts of a trip," said Elliott.
"And it is necessary that all those changes are reflected in all channels to ensure that both the traveller and travel consultant can take action any time it is needed."